Explore band music
We invite you to explore our unsurpassed catalogue of band repertoire, ranging from classics by Holst and Vaughan Williams to the thrilling new compositions included in our Windependence series.
Leading Band Composers

Clare Grundman
Over a five-decade composing career, Clare Grundman provided countless bands with music combining substance, playability, and audience appeal. Many of his most enduring works use American folk materials, including Kentucky 1800, The Blue and the Gray, the Fantasy on American Sailing Songs, and his four American Folk Rhapsodies.
Samuel R. Hazo is on the forefront of band composition and education today, widely sought after as both a composer and clinician. He has tailored his charismatic and uplifting music to ensembles both young and advanced, informed by his experience teaching at every educational level. Highlights include the charming As Winds Dance for beginning band, the lyrical Scottish ballad Perthshire Majesty, and the breathless showstopper Ride.

Gustav Holst
His compositions for military band defined the genre of serious wind composition.No library is complete without Holst's First Suite in E-flat, Second Suite in F, and the Prelude and Scherzo Hammersmith.Newly back in print is a sparkling transcription, Bach's Fugue a la Gigue.

For Vaughan Williams, English folk music was the starting point for works of ingenious harmonic invention and captivating energy. Don't pass up his English Folk Song Suite or the brilliantly arranged Sea Songs and Linden Lea. The vigorous Toccata Marziale remains a classic showpiece of color and counterpoint.
Series Editor: Craig Kirchhoff
Boosey & Hawkes is proud to offer the Windependence series to provide wind band conductors with unique materials that will stimulate the musical and intellectual growth of their students at all levels of education. Craig Kirchhoff, a leader in the world of band conducting and educating, has developed the Windependence repertoire to reflect the highest quality of compositions and transcriptions being written today. Designed for beginning bands through professional grade ensembles, and including ensemble and chamber music in addition to works for full band, Windependence provides the contemporary conductor with a resource of rewarding, challenging, and enjoyable new literature.

Drawn from the riches of Boosey and Hawkes' orchestral catalogue, as well as from classical and romantic favorites, the Great Transcriptions series highlights works adapted to concert band performance with color, sensitivity and clarity. Suitable for high school and university level ensembles, these works will showcase an ensemble's talent and engage an audience's ear. Highlights include Edward Elgar's Pomp and Circumstance March No.1, Aaron Copland's Hoe Down, Leonard Bernstein's Slava!, Alberto Ginastera's Danza Final from Estancia, and John Adams' Short Ride in a Fast Machine.
Page Menu
Explore band music
Leading Band Composers
Clare Grundman
Samuel R. Hazo
Gustav Holst
Ralph Vaughan Williams
Windependence
Great Transcriptions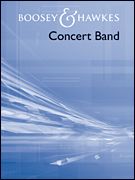 Finzi's Lyric Suite for wind band
One of the most popular 20th-century British composers, Gerald Finzi is best known for his works for voice. Influenced by Elgar and Vaughan Williams, his musical style adapts beautifully in instrumental settings.