Click here to return to our full list of musicals and operettas.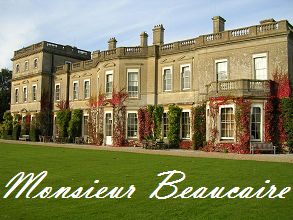 MONSIEUR BEAUCAIRE
Music by Andre Messager
Libretto by Frederick Lonsdale after the story by Booth Tarkington
Lyrics by Adrian Ross

Administered for rental and amateur stage rights by Boosey & Hawkes in the UK.
Licensing performances
If you wish to apply to perform the work, then please send an email to musicals@boosey.com stating the following information only:
1) Name of school/society
2) Where you are (city/town)
3) What you want to perform
4) When you want to perform (if exact dates are not yet known, then please provide the month)
We will then send you an application form by email to complete, along with details of costs involved. Once the form is completed and returned by email, a licence will be emailed to you for signature. Once signed we will be able to send you the music at the date requested on your application form.
Details of hire requirements should be submitted on the application form. We can provide orchestral parts (details below), as well as piano vocal scores and libretti. Please note that you must use live musicians and the use of a backing track is strictly forbidden.
Information
INSTRUMENTATION
2 Flutes
1 Oboe
2 Clarinets
2 Bassoons
2 Horns
2 Trumpets
2 Trombones
1 Timpani
1 Percussion
1 Harp
Strings


THE STORY (Bath; early 18th Century at the time of Beau Nash)
Having escaped to England from prison in Vincennes, the Duke of Orleans has assumed the name of Monsieur Beaucaire, posing as the barber to the Duke of Mirepoix who masterminded his escape. Now living in Bath, he has fallen in love with Lady Mary Carlisle, the object of many men's attentions, in particular those of Duke of Winterset. Beaucaire procures an introduction to Mary through Winterset himself by threatening to reveal that he caught him cheating at cards. The meeting is to take place at Lady Rellerton's ball but in order to attend Beaucaire is obliged to assume another false identity, that of the Duke de Chateaurien, to prevent being recognised as the barber recently expelled from the Pump Room. His plan works and he succeeds in winning Mary's affection. However, at a garden party three weeks later, Winterset, out to thwart his rival in love, declares that he has been making enquiries regarding the so-called Duke and denounces him as the disgraced barber. When Beaucaire is unable to deny the accusation, Mary rejects him for his dishonourable behaviour. One week later at the Pump Room, everyone is eagerly awaiting the arrival of the French Ambassador. Beaucaire, has sworn to attend despite warnings not to show his face in Bath again. Attempts to prevent him fail, and he gains entry to the Pump Room where he sees Mary. As they declare their love for each other, their liason is interrupted by Winterset. An attempt to arrest Beaucaire is foiled by the timely arrival of the Duke of Mirepoix. He wastes no time in revealing Beaucaire's true identity as the Duke of Orleans, and Beaucaire declares Mary as his Duchess-to-be.


PRINCIPAL CHARACTERS
Monsieur Beaucaire
Philip Molyneux
Duke of Winterset
Lady Mary Carlisle
Lucy


PRINCIPAL MUSICAL NUMBERS
Going To The Ball (Molyneux, Beaucaire, Winterset)
A Little More (Lucy, Molyneux)
English Maids (Beaucaire)
Philomel (Lady Mary)
What Are Names? (Lady Mary)
A Son Of France (Mirepoix)


Click here to return to our full list of musicals and operettas.
Warner/Chappell
For further information visit the Warner/Chappell website