Roberto Gerhard 2020: 50th anniversary of the composer's death
The 50th anniversary of Roberto Gerhard's death is marked on 5 January 2020. This major European composer of the 20th century created works rich in colour and invigorated by lively dance rhythms, heard across a sequence of stylistic periods.

His music succeeded in reconciling his Catalan nationalist roots with modernism, while his exile after the Spanish Civil War saw a long battle to renew his career. Gerhard can be viewed as an archetypal creative figure caught up in the struggles of the last century and capturing today's ongoing searches for identity.
For full information including biography and worklist visit www.boosey.com/gerhard.
The following selection of works with audio clips offers an introduction to Gerhard's life and musical world, in preparation for the 50th anniversary year.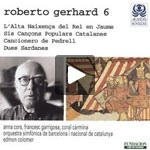 Cantata: L'Alta Naixença Del Rei En Jaume (1932)
for soprano, baritone, choir and orchestra

Following piano lessons in Barcelona with Granados and composition studies with Felipe Pedrell, Roberto Gerhard was accepted in 1923 as a student of Schoenberg in Vienna and Berlin. On his return to Barcelona in 1929 Gerhard introduced modernist techniques into his music, while supporting Catalan cultural endeavours. His Cantata, which effectively blends both interests, reveals music closer in style to Bartók and Stravinsky than Schoenberg. It impressively captures the wry humour of the Catalan text describing the plotting to secure the birth of King James I, who was to free Barcelona from French rule.
> More info
> Buy score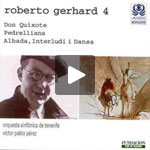 Albada, Interludi i Dansa (1936)
for orchestra

Between 1933 and 1938 Gerhard worked in the music department of the Catalan Library, including editorial work on early and 18th century Catalan music. His detailed study of the rhythms and melodic inflections of folk styles informed all his later music, not only his overtly Spanish dance scores but also his later abstract modernist works. The three movement Albada, Interludi i Dansa is an early example, assembling Catalan idioms into an attractive orchestral suite, which like Britten and Berkeley's Mont Juic was conceived to identify with the Republican cause.
> More info
> Buy score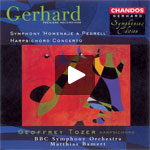 Pedrelliana (1941)
for orchestra

Felipe Pedrell was a pivotal figure in Spanish and Catalan music, not only as a mentor for composers including Albeniz, Granados and Falla but also for his researches into music of earlier centuries. Gerhard was his last pupil and was shaken by Pedrell's death in 1922, destabilising his development as a composer. With the centenary of Pedrell in 1941, Gerhard (like Falla) was prompted to compose a work in tribute. The Symphony Homenaje a Pedrell remained unperformed throughout Gerhard's life, but his reworked final movement Pedrelliana has proved to be a popular orchestral hit in its own right.
> More info
> Buy score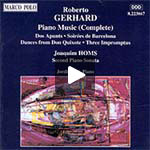 Soirées de Barcelone (1936-38)
for orchestra

After the outbreak of the Spanish Civil War, Gerhard was commissioned to compose a Catalan dance score for the Ballets Russes de Monte Carlo directed by Leonid Massine. Soirées de Barcelone was intended as a grand ethnographical ballet, creating a magical night in the city drawing upon its folksongs, patriotic songs and ritual dances. Sadly, all Ballets Russes projects were cancelled with the declaration of the Second World War, so Gerhard created a number of orchestral suites and the dance suite for piano, heard here. Posthumously a 20-minute orchestral suite was arranged by David Atherton, and the full 55-minute ballet was restored with editorial completions by Malcolm MacDonald.
> More info
> Buy score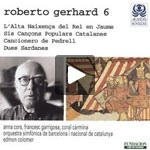 Cancionero de Pedrell (1941)
for high voice and chamber orchestra

Gerhard's associations with the Republican and Catalan governments forced his emigration in 1939 as Franco's victory in the Civil War looked certain. Travelling first to Paris, he was offered a minor research fellowship at Cambridge University that summer and, with world war approaching, decided to settle there. Adjustment to life in exile, with few supporters in the UK, was a struggle and Gerhard often returned to folk music in this period, including these song arrangements of melodies collected by Pedrell, equally popular with chamber orchestra or piano accompaniment. The song Soledad is particularly poignant, describing the stork that is continually attracted back to its nest atop Oviedo Cathedral.
> More info
> Buy score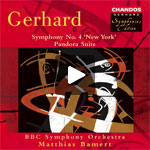 Pandora (1942-43)
Suite for chamber orchestra

During the war Gerhard undertook a number of theatre and ballet projects, including Alegrìas for Ballet Rambert and Pandora for the Ballet Jooss. The latter troupe had reassembled in England after the Nazi seizure of power, commissioning a number of ballets on satirical and anti-Fascist subjects. Pandora updated the Greek myth, with her box threatening the modern curses of totalitarianism, warfare and materialism. Gerhard's employment of Catalan melodies demonstrates his linking of Pandora's themes to Franco's ruthless suppression of Catalan culture at this time. Towards the end of the decade the composer extracted a 20-minute suite for chamber orchestra featuring the ballet's highlights.
> More info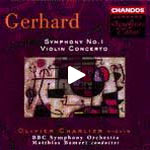 Violin Concerto (1942-45)
for violin and orchestra

The first of Gerhard's three instrumental concertos is the most traditional, adopting the standard three-movement fast-slow-fast form. Though extrovert in its solo violin writing, the work is also deeply personal, exploring themes of exile in the middle movement, and the shift from wartime to freedom in the rondo variations finale. The concerto also signals Gerhard's wholesale re-engagement with Schoenberg and modernist techniques. The work was conceived as a 70th birthday present for his Viennese teacher and the central Largo adopts the same tone row as Schoenberg's String Quartet No.4, though the score's richness is perhaps closer to Berg's concerto, coupled with Bartókian atmospherics.
> More info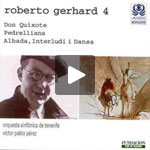 Don Quixote (1940-41, 1947-49)
Ballet in one act

The post-war years saw the completion of Gerhard's two most significant scores, the ballet Don Quixote and the opera The Duenna. Cervantes's knight errant was a constant companion of the composer through the 1940s, with a small-scale ballet, a chamber orchestra suite, a radio play and a symphonic suite. The final definitive version of Don Quixote was staged at the Royal Opera House in London in 1950, with choreography by Ninette de Valois, and Robert Helpmann and Margot Fonteyn in the lead roles. The 40-minute ballet saw Gerhard's ultimate fusion of folk themes with modernist compositional techniques including serialism. The score is rich in subtle characterisation, vivid colours, dancing impetus and tender pathos. Music from the ballet is most frequently heard in the 15-minute Dances from Don Quixote, available in versions for symphony orchestra and for piano.
> More info
> Buy score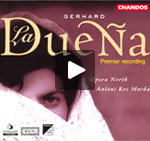 The Duenna (1945-47)
Opera in three acts

As an operatic project, The Duenna provided Gerhard with the perfect combination of an English play on a Spanish subject, reuniting the split cultural aspects of his life. He was drawn by Sheridan's sparkling, comic dialogue, but also by the Seville setting with "its colour and atmosphere, its social climate; wealth and fashion rubbing elbows with beggars, gypsies and picaresque rogues". Gerhard's only opera was a labour of love in straitened circumstances, uncommissioned with little hope of staging, but it achieved a radio concert performance in 1949 with a cast including Peter Pears. The Duenna was finally acclaimed on the stage in 1992, more than 20 years after Gerhard's death, thanks to the performing edition by David Drew, with a production shared between the Teatro Lirico Nacional in Madrid, the Gran Teatre del Liceu in Barcelona and Opera North in Leeds.
> More info
> Buy score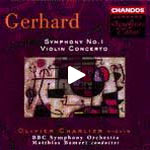 Symphony No.1 (1952-53)
for orchestra

Following his concertos for violin and piano, Gerhard's first numbered symphony was the major statement in which he fully embraced a modern post-Schoenbergian style, pointing the way towards his late period. The drama and characterisations of Don Quixote and The Duenna, and the typical folk inflections and dance rhythms are still present but are increasingly abstracted. The work explores states of tension and danger, with a sense of threat no doubt derived from the first of Gerhard's series of heart attacks. Resolution of a kind is achieved in the extended final movement, which injects a scherzando element as well as reviewing the earlier Allegro and Adagio. The premiere at the 1955 ISCM Festival in Baden-Baden saw Gerhard thrust onto a modernist stage, sharing a programme with the German premiere of Boulez's Le Marteau sans maître.
> More info
> Buy score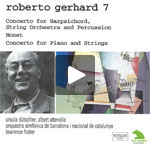 Nonet (1956-57)
for wind, brass and accordion

This virtuosic and essentially good-humoured work demonstrates the craftsmanship of Gerhard's modernist style. There are links back to his earliest serial pieces from the 1920s and the Nonet displays the freshness, bracing sonorities and pioneering spirit akin to the works of Varèse from that decade which were gaining new currency in the late 1950s. In terms of scoring, the most striking aspect is the use of the accordion alongside the wind and brass, one of its earliest appearances in classical contemporary music, providing a resonance to the polyphonic lines and pointillist attacks, approaching the soundworld of electronic music.
> More info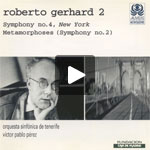 Metamorphoses (Symphony No.2) (1968)
for orchestra

With a steady flow of commissions, Gerhard's final decade of the 1960s was his most successful, thanks largely to the patronage of the BBC under William Glock, whose aim was to reposition British contemporary music alongside the European avant-garde mainstream. Key works included the Concerto for Orchestra, the third and fourth symphonies, the powerful cantata The Plague setting Camus, and astrological works for ensemble (all published by Oxford University Press). Metamorphoses is a recomposition of Gerhard's Symphony No.2 of 1959, recast into his late style a decade on, providing a fascinating final amalgam of folk-inspired elements with abstract modernism.
> More info
Gerhard playlist on Spotify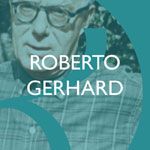 For complete tracks of music by Roberto Gerhard, listen to our new playlist on Spotify.