Celebrating Harrison Birtwistle's 80th Birthday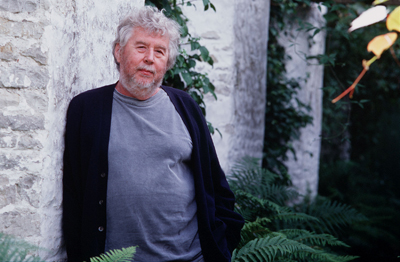 Harrison Birtwistle's 80th birthday is celebrated on 15 July 2014. Plans include a series of concerts at the Barbican in London and a new piano concerto to tour internationally.
Harrison Birtwistle is internationally regarded as one of the most striking and individual composers in classical contemporary music. His soundworld runs the full gamut from large-scale operatic and orchestral canvases, rich in mythical and primitivist power, to intimate chamber works, contemplative in their lyricism. Central artistic themes spring from his observations of cyclical forms in nature, the imaginary inner landscape, and the viewing of an object from multiple perspectives.
For full information including biography and worklist visit www.boosey.com/birtwistle.
The following selection of works with audio clips offers an introduction to Birtwistle's musical world, suitable for exploration in preparation for his 80th birthday year.

The Shadow of Night
for orchestra
Birtwistle's most widely performed orchestral work of recent years, The Shadow of Night, is a summing up of many of his key artistic concerns. The 30-minute score is a processional through a nocturnal landscape, modern in idiom but also looking back to Renaissance sources with its references to Dürer's engraving Melancholia I and Dowland's lute song In Darkness Let Me Dwell. In contrast to the seismic energy of works like Earth Dances it is largely reflective, though building to an impressive climax, and contains some of the composer's most sophisticated and subtle orchestration. A shorter companion piece, Night's Black Bird, takes some of the same material on a different 12-minute journey, focusing on the birdsong that closes The Shadow of Night.
> More info...
> View score online
> Buy score
Panic
a dithyramb for alto saxophone, jazz drummer, wind, brass and percussion
This bracing, exuberant work, scored for concertante saxophone and drum-kit with an orchestra of wind, brass and percussion, caused a stir at its premiere at the 1995 Last Night of the Proms. Turning as so often to Greek mythology the composer depicts "the great god Pan, down in the reeds by the river… spreading ruin and scattering ban" to quote Elizabeth Barrett Browning. The work takes the form of an anarchic goat-dance in which the soloists interact with a Greek chorus-style orchestra, alternating raw, energetic outbursts with more restrained, calming music.
> More info...
> Buy score

The Minotaur
Opera in 13 scenes
Birtwistle's most recent full-evening opera tells the story of the half-man half-bull Minotaur, imprisoned in the labyrinth, and his half-sister Ariadne seeking escape from Crete. Theseus arrives with a cargo of doomed youth from Athens but with Ariadne's assistance escapes the ritual slaughter and, unwinding a ball of thread through the maze, faces the Minotaur. Theseus kills the monster whose humanity and power of speech is restored in a moving closing scene.
> More info...

The Cry of Anubis
for tuba and orchestra
This compact concertante work is scored for Mozart-sized chamber orchestra, with a solo tuba depicting Anubis, the jackal-headed god of Egyptian mythology who is one of the characters in Birtwistle's opera The Second Mrs Kong. The score is highly characteristic of the composer with its slow funeral march and dark, bass-laden colours, intercut with fast, agitated interruptions, giving an overall impression of an ancient, forgotten ritual.
> More info...
> Buy score

Orpheus Elegies
for oboe, harp and countertenor
A series of Birtwistle's works, large and small, have focused on the Orpheus myth. This collection of 26 elegies explores the twin natures of Orpheus's music, the ethereal and the earthly. Some numbers are for the mythical instruments alone – reed (oboe or cor Anglais) and harp - while others set texts from Sonnets to Orpheus by Rainer Maria Rilke for countertenor. The poetry infuses the music across the collection, with words or phrases providing impetus to the instrumental numbers as well as the full vocal settings.
> More info...
> Buy score

9 Settings of Lorine Niedecker
for soprano and cello
Birtwistle is an avid reader of 20th century poetry, and these concentrated settings for soprano and cello demonstrate his understanding of the essence of these texts. Lorine Niedecker's poetry observes the natural world with haiku-like brevity, providing an intense response to her surroundings. The fragility of words and music presented here by Birtwistle offers a complete contrast to his extrovert works, instead crafting a concentrated chamber-scale expressivity.
> Read on...
> Buy score

String Quartet: The Tree of Strings
for string quartet
Birtwistle's recent String Quartet carries a subtitle drawn from a poem by the Gaelic poet Sorley MacLean and explores memories – both personal and cultural – from the composer's time on the Hebridean island of Raasay in the 1970s. He discovered that no musical tradition had survived there, perhaps due to land clearances and religious prohibitions, and the quartet is an attempt to create an imaginary music drawn from the empty landscape. Written for the Arditti Quartet, this is one of Birtwistle's major chamber works.
> More info...
> Buy score