Click here to return to our full list of musicals and operettas.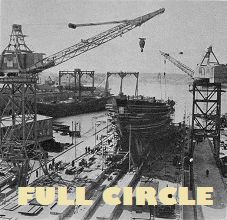 FULL CIRCLE
Music by Robin Orr, Libretto by Sydney Goodsir Smith

Administered for rental and amateur stage rights by Boosey & Hawkes in the UK.
Licensing performances
If you wish to apply to perform the work, then please send an email to musicals@boosey.com stating the following information only:
1) Name of school/society
2) Where you are (city/town)
3) What you want to perform (Full Circle)
4) When you want to perform (if exact dates are not yet known, then please provide the month)
We will then send you an application form by email to complete, along with details of costs involved. Once the form is completed and returned by email, a licence will be emailed to you for signature. Once signed we will be able to send you the music at the date requested on your application form.
Details of hire requirements should be submitted on the application form. We can provide orchestral parts (details below), as well as piano vocal scores. Please note that you must use live musicians and the use of a backing track is strictly forbidden.
Information
INSTRUMENTATION
1 Clarinet
1 Bassoon
1 Cornet
1 Trombone
1 Timpani / Percussion
1 Violin
1 Viola
1 Double Bass


THE STORY
The scenes are set around the shipyards of Glasgow in the industrial depression of 1930. Davie, a penniless young dock labourer, plans an armed hold-up. His wife Jean persuades him to empty the bullets from the gun. Davie stops a stranger with his empty gun and takes all his money which he promptly spends in the nearest bar, from which he is thrown out when he becomes drunk and quarrelsome. A passing policeman tries to direct him home, but this unnecessarily angers Davie, who draws the gun. A struggle breaks out during which the gun goes off killing the policeman. One bullet had not been removed.


PRINCIPAL CHARACTERS
Davie
Jean
Andra
Stranger
Barman


Click here to return to our full list of musicals and operettas.
Warner/Chappell
For further information visit the Warner/Chappell website