Celebrating Peter Maxwell Davies's 80th Birthday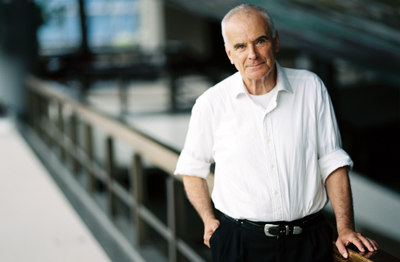 Peter Maxwell Davies's 80th birthday falls on 8 September 2014, offering opportunities to celebrate this leading international contemporary composer and his rich catalogue of works.
Rising to prominence in the 1960s and '70s 'Max' (as he is universally known) was at the vanguard of contemporary music in the UK, embracing international influences at a time when new British music was considered to be parochial and insular. His music theatre works defined a new form, cutting edge in subject matter and soundworld, and suitable for touring by small groups of skilled specialist musicians. In the 1970s he became an adoptive Scot, living in the Orkneys, and readily embracing aspects of the local culture. As conductor he toured his music with The Fires of London, the Scottish Chamber Orchestra and BBC Philharmonic, and has been an enthusiastic teacher of and advocate for other composers at the Dartington Summer School, the St Magnus Festival and beyond. Recent decades have seen him turn his inquisitive gaze on symphonies, concertos, string quartets and choral music, learning from the classical masters and reinterpreting each form for the modern age.
For full information including biography and worklist visit www.boosey.com/maxwelldavies. The following selection of works with audio clips offers an introduction to Maxwell Davies's musical world, suitable for exploration in preparation for his 80th birthday year.

Eight Songs for a Mad King
Music-theatre work for male voice and ensemble
Maxwell Davies's most performed work, Eight Songs for a Mad King, is a unique theatrical experience, disturbing and moving in equal measure. Scored for baritone and chamber ensemble, this music theatre classic explores the madness of King George III, with music combining Maxwell Davies's modernist soundworld with wild parodies of the baroque period, including Handel's Messiah. Virtuosity is an intrinsic part of the theatricality, both for the singer who must push his vocalism to extremes and for the instrumentalists who are drawn into the drama.
> More info...
> Buy score
An Orkney Wedding, with Sunrise
for orchestra with bagpipe solo
Maxwell Davies's most popular orchestral work, offering an alternative to the composer's more complex scores, is one of a number of 'light music' pieces that communicate readily with a general audience. This tone-poem for orchestra or chamber orchestra is fruit of his years living in the Scottish Orkney Islands and describes a riotous wedding celebration that lasts through the night. The revelry draws on Scottish folk music and becomes increasingly inebriated until the sunrise is greeted by a solo bagpiper joining the orchestra.
> More info...
> Buy score

St Thomas Wake
Foxtrot for orchestra on a Pavan by John Bull
Maxwell Davies grew up in Manchester during the Second World War and studied there alongside such luminaries as Harrison Birtwistle, Alexander Goehr, Elgar Howarth and John Ogden, who shared his enthusiasm for the music of the Second Viennese School and European contemporary composers. His childhood is recalled in St Thomas Wake, where a 16th century pavan by John Bull is transformed into Maxwell Davies's 'modern' music and into a sequence of foxtrots. The composer remembers listening to dance music on a wind-up gramophone while sheltering at home during a wartime bombing raid.
> More info...
> Buy score

Five Klee Pictures
for school, amateur, or professional orchestra
After completing his studies Maxwell Davies worked as a music teacher, launching a lifelong commitment to education. In 1959 he created his first works ostensibly for young performers, but which must have been immensely challenging for the schoolchildren. Five Klee Pictures, inspired by the Swiss artist Paul Klee, was later revised and is entirely suitable for professional orchestras. This short suite of five strongly characterised movements offers a good introduction to the composer as well as some interesting links to the musical mechanisms of fellow composer Harrison Birtwistle.
> More info...
> Buy score

Worldes Blis
Motet for orchestra on a 13th century English monody
One of his most uncompromising scores, Worldes Blis stood as a beacon for British contemporary music as it fought to free itself from a Victorian and folkloric heritage. Maxwell Davies developed an individual language combining the music of Schoenberg with medieval techniques of melodic and rhythmic transformation. Alongside his opera Taverner, Worldes Blis was his most ambitious statement of intent, causing something of a furore at its Proms premiere in 1969. The orchestral forces gather momentum as proliferations of the plainsong material point towards the final revelation of the melody, amidst music of volcanic energy and density of expression.
> More info...
> Buy score

Ave Maris Stella
for mixed ensemble
In the late 1960s and '70s Maxwell Davies focused on works for a chamber ensemble based on the scoring of Schoenberg's Pierrot Lunaire, first writing for the Pierrot Players and later the Fires of London with which he toured internationally. Ave Maris Stella demonstrates the instrumental virtuosity he could demand from his hand-picked players, and a discourse rich in complex transformations of plainchant and magic squares, a musical equivalent of medieval alchemy.
> More info...
> Buy score

Versalii Icones
Music-theatre work for dancer, solo cello, and ensemble
Maxwell Davies's dramatic instincts found creative outlet in this period through a sequence of ground-breaking music theatre works. Missa Super l'Homme Armé, Eight Songs for a Mad King, Miss Donnithorne's Maggot and Vesalii Icones are Expressionist in poetic style and violence, exploring themes of profanity, madness and betrayal. Dancer and cellist are twin protagonists in Vesalii Icones, in which the anatomical drawings of Vesalius are superimposed upon the Stations of the Cross, with the ensemble providing music rich in parody and ritual impact.
> More info...
> Buy score

Symphony No.1
for orchestra
Maxwell Davies's move in 1970 to a croft on the remote island of Hoy in the Orkneys made a progressively larger impact on his compositions. His first 'Symphony' and its successors show the influence of the Orcadian landscape and the surrounding turbulent sea, as well as his reappraisal of classical forms and mastery over larger-scale structures. His skill at writing for percussion is apparent in the soundworld of Symphony No.1 where the bell-like tuned instruments often carry the thematic material and provide glistening textures.
> More info...
> Buy score

The Martyrdom of St Magnus
Chamber opera in nine scenes
Orcadian history and poetry increasingly captured Maxwell Davies's attention, such as Runic inscriptions in Stone Litany and texts by George Mackay Brown in works including The Martyrdom of St Magnus. The chamber opera, premiered in 1977 at the first St Magnus Festival inaugurated by the composer, links the murder of the pacifist Earl Magnus in the 12th century to atrocities in our own time.
> More info...
> Buy score

Symphony No.5
for orchestra
Whereas most works in Maxwell Davies's symphonic cycle are large-scale multi-movement scores, Symphony No.5 is a compact single span lasting 25 minutes, suitable for mixed programmes. The composer became increasingly active as an orchestral conductor during the 1980s, exploring symphonic repertoire as well as performing his own works. Shaping the plainsong-derived thematic material in Symphony No.5, he demonstrates the influences of Beethoven's alternation of stability and flux, and the organic development heard in Sibelius's late symphonies.
> More info...
> Buy score

Ojai Festival Overture
for orchestra
In the 1980s and '90s Maxwell Davies toured widely with the Scottish Chamber Orchestra and BBC Philharmonic as well as guest conducting, introducing his orchestral works internationally. The Ojai Festival Overture was written as a lively concert opener for the Californian festival, with harmonies adopting the 'wide-open spaces' of American music, experienced on tour and recalling his time spent at Princeton in the 1960s.
> More info...
> Buy score

Trumpet Concerto
for trumpet and orchestra
Together with his engagement with the classical forms of symphony and string quartet, Maxwell Davies has explored the concerto, both through a series of ten Strathclyde Concertos with chamber orchestra, and a number of symphonic sized works including the Trumpet Concerto dating from 1988. This work is a triptych of pictures about St Francis of Assisi: the opening movement depicts the saint's conversion and life as a hermit; the second sees the trumpet making the sermon to the birds; and the Presto finale takes us from Francis's expulsion of devils and wolves to his receiving of the stigmata.
> More info...
> Buy score

Farewell to Stromness
for piano solo
As the composer approaches his 80th birthday he may be perceived more as the grand old man of British contemporary music rather than the enfant terrible, particularly since his elevation to Master of the Queen's Music in 2004. However, he remains a committed and lively spokesperson for classical music, with strong views on arts policy and unwavering belief in music's power to reach into the community. His output is prodigious and immensely varied, ranging from the complex permutations in his symphonies to the simplest piano piece such as Farewell to Stromness, a Scottish miniature beguiling to all listeners.
> More info...
> Buy score