Click here to return to our full list of musicals and operettas.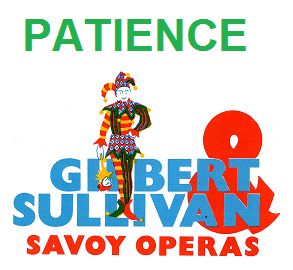 PATIENCE (Murray orchestration)
Music by Arthur Sullivan (orchestrated by Peter Murray)
Libretto and Lyrics by W.S. Gilbert
Arranged by Peter Murray

Administered for rental and amateur stage rights by Boosey & Hawkes in the UK.
Licensing performances
If you wish to apply to perform the work, then please send an email to musicals@boosey.com stating the following information only:
1) Name of school/society
2) Where you are (city/town)
3) What you want to perform
4) When you want to perform (if exact dates are not yet known, then please provide the month)
We will then send you an application form by email to complete, along with details of costs involved. Once the form is completed and returned by email, a licence will be emailed to you for signature. Once signed we will be able to send you the music at the date requested on your application form.
Details of hire requirements should be submitted on the application form. We can provide orchestral parts (details below). Vocal scores and libretti may be purchased from www.boosey.com/shop. Please note that you must use live musicians and the use of a backing track is strictly forbidden.
Information
INSTRUMENTATION
1 Flute
1 Oboe
1 Clarinet
1 Horn
1 Trumpet
1 Trombone
1 Timpani
1 Percussion
1 Piano (optional)
3 Violins I
3 Violins II
2 Violas
2 Cellos
1 Double Bass


THE STORY (Exterior of Castle Bunthorne / A Glade)
Reginald Bunthorne is idolised by the young maidens of the village for his aesthetic life-style. Much to their disappointment, though, he only has eyes for Patience. She is aware of his feelings but is unable to return his affection as she believes herself incapable of loving anyone. When she is persuaded, however, that love is an unselfish emotion she sets about falling in love immediately out of a sense of duty. Although true love is revealed to her in the shape of Archibald Grosvenor whom she knew in her childhood, she unable to accept his proposal. He is adored by women wherever he goes for his good looks and aesthetic tendencies and, for this reason, Patience realises that there is nothing unselfish in loving so perfect a being. Instead she dutifully accepts Bunthorne's offer on the grounds that it would be an unselfish act to love him against her will. With Bunthorne unavailable, the village maidens quickly turn their attention to Grosvenor, much to Bunthorne's annoyance. He resents the presence of a rival depriving him of the adulation he is used to and, in an attempt to regain his past popularity, he forces Grosvenor to change his manner and appearance to one of a commonplace young man. Sick of the constant adoration he attracts, Grosvenor agrees. Consequently Patience is free to return to him as there is nothing unselfish in loving an ordinary man; the village maidens follow Grosvenor's example in abandoning aestheticism and pair up with members of the 35th Dragoon Guards who have been vying for their attention all along; and only Bunthorne is left without a bride.


PRINCIPAL CHARACTERS
Patience (a Dairy Maid)
Reginald Bunthorne (a Fleshy Poet)
Archibald Grosvenor (an Idyllic Poet)
Colonel Calverley, Major Murgatroyd, Lieut. The Duke of Dunstable (Officer of Dragoon Guards)
The Lady Jane (a Rapturous Maiden)


PRINCIPAL MUSICAL NUMBERS
The Soldiers Of Our Queen (Colonel, Chorus of Dragoons)
When I First Put This Uniform On (Colonel)
If You're Anxious For To Shine (Bunthorne)
A Magnet Hung In A Hardware Shop (Grosvenor, Chorus of Maidens)
Love Is A Plaintive Song (Patience)
When I Go Out Of The Door (Bunthorne, Grosvenor)


Click here to return to our full list of musicals and operettas.
Warner/Chappell
For further information visit the Warner/Chappell website