Click here to return to our full list of musicals and operettas.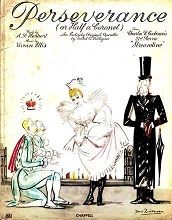 PERSEVERANCE
Or HALF A CORONET
Words by A.P.Herbert
Music by Vivian Ellis

Administered for rental and amateur stage rights by Boosey & Hawkes in the UK.
Please follow this link to listen to extracts from a selection of songs from the musical.
Licensing performances
If you wish to apply to perform the work, then please send an email to musicals@boosey.com stating the following information only:
1) Name of school/society
2) Where you are (city/town)
3) What you want to perform (Perseverance)
4) When you want to perform (if exact dates are not yet known, then please provide the month)
We will then send you an application form by email to complete, along with details of costs involved. Once the form is completed and returned by email, a licence will be emailed to you for signature. Once signed we will be able to send you the music at the date requested on your application form.
Details of hire requirements should be submitted on the application form. We can provide piano vocal scores. Please note that you must use live musicians and the use of a backing track is strictly forbidden.
Information
INSTRUMENTATION
Piano only


PRINCIPAL CHARACTERS
Perseverance
Lily
Rudolph
Robert
The Official Receiver
The Lady Chancellor
Fisher-Girls and Bailiffs


Click here to return to our full list of musicals and operettas.
Warner/Chappell
For further information visit the Warner/Chappell website