Music in the Terezín concentration camp
From November 1941, the Czech town of Terezín (German: Theresienstadt) was used as a concentration camp by the Nazi regime. The number of people deported to this small garrison town increased rapidly. Among them there were numerous artists, some of whom tried to continue writing or performing in the camp. Thus it was under these absurd circumstances, Terezín being both a transit point to extermination camps and a propaganda tool for the Nazis, that a cultural and social life developed that, though within strict limits, allowed the detainees, to a certain degree at any rate, to preserve their dignity. (Click here for a brief introduction to the topic.)
Composers
Some of Europe's most gifted musicians were among those deported to Terezín – pupils and assistants of the great composers of the age, such as Janácek, Zemlinsky, Schönberg and Haba. The promising careers of these composers and conductors were brutally cut short by Nazi barbarism. Nevertheless some of their works have survived until today. They are available in modern editions and testify to their creators' exceptional talent, as well as to the circumstances under which they were written.

A student in Janácek's master class, Haas (1899 Brno – 1944 Auschwitz) amalgamated his teacher's style with Jewish influences from his native Bohemian tradition and elements of jazz. The result was a very individual, powerful, and often polymetric tonal language. His works from the 1930s, such as the opera Sarlatan or his String Quartet No.3, are every bit as impressive as, for instance, his last surviving work, the Four Songs on Chinese Poetry, which was written in Terezín.
(1880 Pilsen – 1945 Terezín) studied composition with Anton Dvorak and became teacher at the Prague Conservatory. He participated in the Czech resitance and was arrested on March 19, 1943. In February 1945, he was tranferred to the Terezín camp. He is the author of 'slavonic'-inspired orchestral pieces and of the symphonic poem Demon.

As pianist and composer, Klein (1919 Prerov/Moravia –1945 Fürstengrube) was considered a great talent. However, he had to give up his studies under Alois Hába after the Czech university was closed by the Nazi occupants. He wrote works of amazing maturity, such as a String Trio written at Terezín, Bachuri Le'an Tisa for women's choir and recently discovered works dating from before 1941, including a Divertimento for wind instruments.

A student of Zemlinsky and Roussel, Krása (1899 Prague – 1944 Auschwitz) worked for the Kroll Opera House in Berlin. After a period characterised by a complex cosmopolitan style in which he produced compositions such as Theme and Variations for string quartet, he adopted a more distinct Czech style on being interned at Theresienstadt. Works from this period include the Rimbaud Songs and Passacaglia and Fugue for string htrio.

(1930 Hamburg – 2007 Hornbaek, Denmark) played the trumpet in the Theresienstadt "Stadtorchester" and participated in the Brundibár performances. Surviving the Holocaust, he composed an Overture to the opera in the last years of his life (Krása's original had none). His Nachschub for speaker and ensemble is based on his own text, and expresses the thoughts of a hungry child queuing up for food in the Theresienstadt camp.

(1916 Chemnitz – 1944 Terezín) studied with Hindemith in Berlin and Hába in Prague. Viktor Ullmann considered him a great talent. In late 1941 Schul was deported to Terezín, where he died from tuberculosis. A small number of chamber music works survived, including his Chassidic Dances for two string instruments, a Duo for violin and viola and a Fugue for piano.

On being deported to Terezín in 1942, Ilse Weber (1903 Witkowitz – 1944 Auschwitz) worked as a nurse and wrote more than 50 poems when on night watch. To some of these songs she wrote music which she accompanied on the guitar. She was murdered in Auschwitz together with her son, Tommy, and the children from her ward. Her surviving songs are now available in a new edition, and some of them have been recorded on CD by Anne Sofie von Otter and Christian Gerhaher.
The Opera

Aninka and Pepicek want to sing at the marketplace to raise money for their ill mother. However, the organ grinder Brundibár chases them away. With the help of a dog, cat and a sparrow and the other children of the town they stand their ground against the villain. With Brundibár, Hans Krása and Adolf Hoffmeister created a work about the power of companionship that is seen today as being synonymous with music in Terezín.
Written in 1938, this children's opera was premiered in the autumn of 1941 at the Jewish orphanage in Prague. From September 1943, a revised version was performed in Terezín on over 50 occasions by the composer, together with other inmates of the camp. Since its first edited publication in 1992, Brundibár has been a formative musical experience for children all over the world.
Tributes to Brundibár
In recent years, Krása's children's opera has continued to inspire other artists, leading to outstanding stage productions or new works. Some of these new compositions lend themselves to joint performances with Brundibár.

BRETT DEAN
Katz und Spatz for 8-part mixed chorus
A moving choral piece, inspired by performances of the opera and contemporary eyewitness reports

PAUL ARON SANDFORT
Overture to Brundibár for chamber orchestra
(see above)

PETR POKORNÝ
Hommage à "Brundibár" for small orchestra
also suitable as an overture at staged performances of the opera
Brundibár-Suite for ensemble
an arrangement of excerpts from the opera

SUSAN KANDER
And You And I for soprano, choruses and instruments
This piece is based on a musical motif from the opera, the Song of Songs, and a poem written by a girl interned in Terezín.

Brundibár as a picture book
In 2003, the well-known author of children's books, Maurice Sendak, and the playwright and Pulitzer Prize winner Tony Kushner organised a production of Brundibár in Chicago. Their version was later published as a richly illustrated children's book (German edition: ISBN 3-8067-5073-4, English edition: 0-786-80904-3).
Chamber music
Along with choral and vocal works, chamber music was one of the most prominent genres of the so-called Terezín composers – which was, of course, to do with the limited resources and scope for music-making in the camp. But even before their internment, these composers wrote substantial chamber music works. Apart from the aforementioned composers, Pavel Haas, Gideon Klein and Hans Krása, this repertoire includes pieces for strings and/or piano by Robert Dauber and Zikmund Schul or art and vaudeville songs for various instrumentations.

Click here for a list of available editions.
The series is to be continued.
›Suppressed Music‹
On our feature site which deals with 'suppressed music' in general, you will find the Boosey & Hawkes / Bote & Bock catalogue of works by other composers persecuted, murdered or driven into exile by the Nazi regime, or those who wrote music as part of resistance movements.

> Go to the page about 'suppressed music'
Page Menu
Music in the Terezín concentration camp
Composers
Pavel Haas
Rudolf Karel
Gideon Klein
Hans Krása
Paul Aron Sandfort
Zikmund Schul
Ilse Weber
The Opera
Brundibár
Tributes to Brundibár
Brundibár as a picture book
Chamber music
›Suppressed Music‹

New CD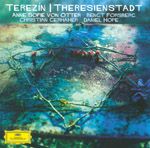 PAVEL HAAS: Four Songs on Chinese Poetry
HANS KRASA: Three Songs after poems by Rimbaud
ILSE WEBER: Three Songs
and other works from Terezín
Anne Sofie von Otter / Christian Gerhaher / Bengt Forsberg / Gerold Huber / Bebe Risenfors / Ib Hausmann / Philip Dukes / Josephine Knight, DG 477 6546
". . . this is an eloquent act of homage which cannot fail to move." (Anthony Holden, Observer)

Robert Dauber was born in 1922 and died in 1945 at Dachau. He played the piano and the cello and participated in the Terezín performances of Brundibár. His Serenade, now available in a new edition, is his only preserved composition.