Click here to return to our full list of musicals and operettas.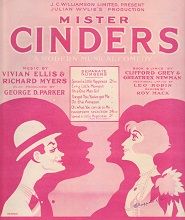 MR CINDERS
Music by Vivian Ellis and Richard Myers
Libretto and Lyrics by Clifford Grey and Greatrex Newman
Additional Lyrics by Leo Robin and Vivian Ellis

Administered for rental and amateur stage rights by Boosey & Hawkes in the UK.


Mr Cinders is an enchanting 1920's inversion of the classic Cinderella story, with memorable songs by Vivian Ellis including the timeless 'Spread A Little Happiness'.
Please follow this link to view the vocal score and libretto online, free of charge.
Please follow this link to listen to extracts from a selection of songs from the musical.
Licensing performances
If you wish to apply to perform the musical, then please send an email to musicals@boosey.com stating the following information only:
1) Name of school/society
2) Where you are (city/town)
3) What you want to perform (Mr Cinders)
4) When you want to perform (if exact dates are not yet known, then please provide the month)
We will then send you an application form by email to complete, along with details of costs involved. Once the form is completed and returned by email, a licence will be emailed to you for signature. Once signed we will be able to send you the music at the date requested on your application form.
Details of hire requirements should be submitted on the application form. We can provide orchestral parts (details below), as well as piano vocal scores and libretti/chorus books.
Please note that you must use live musicians and the use of a backing track is strictly forbidden.

Information
INSTRUMENTATION
1 Cello
1 Clarinet / Flute / Picc / Sax
1 Piano I
1 Piano II
1 Conductor Score – annotated vocal score


THE STORY (The late 1920s)
In this very amusing inversion of the fairy story, Jim is the down-trodden Cinderella figure. Living at Merton Chase, he is the adopted son of Sir George Lancaster and Lady Lancaster. She has two sons, Lumley and Guy, from her previous marriage when she lived at the neighbouring stately home, The Towers. The present owner of The Towers is Henry Kemp, an American millionaire who has a pretty daughter called Jill. To escape from the law in the shape of P.C Merks after a traffic offence, Jill pretends to be the new maid at Merton Chase. Lumley gets friendly with Jill's cousin and companion, Minerva, and Guy is similarly smitten with Phyllis Paterson. An invitation comes from Jill's father for all at Merton Chase to attend a costume ball at The Towers. Jim is not allowed to attend the ball but Jill, still pretending to be the maid Sarah, persuades him to disguise himself as the celebrated South American explorer, the Earl of Ditcham. The day of the ball coincides with Jill's 21st birthday and on that day she inherits the priceless Verity necklace. Lumley reveals, with the help of a newspaper report, that the real Earl of Ditcham sailed for South America that morning, so the disguised Jim is shown to be an imposter. After Jill has announced that her necklace has been stolen and it is discovered in Jim's pocket, things couldn't look blacker for him. However, with Jill's help he escapes through a secret panel and captures Smith the butler, the real thief of the necklace. P.C. Merks comes later to Merton Chase looking for the owner of the hat worn by the so-called Earl of Ditcham, who valiantly captured and trussed up the thief. It is obviously nowhere near the right size for the heads of Lumley or Guy or even Sir George, but it fits Jim perfectly. He wins £1000 reward and when asked to return the necklace to Mr Kemp's daughter, Jim is astonished to learn that the maid "Sarah" is really Jill. With engagements announced between Lumley and Minerva, between Guy and Phyllis and of course between Jim and Jill, all ends happily.


PRINCIPAL CHARACTERS
Jim
Jill
Lumley
Guy
Minerva
Phyllis
Henry Kemp


PRINCIPAL MUSICAL NUMBERS
True to Two (Lumley)
I'm A One Man Girl (Jill, Jim)
On With The Dance (Minerva)
Spread a Little Happiness (Jim)
She's My Lovely (Kemp)
Every Little Moment (Minerva, Lumley)
I've Got You, You've Got Me (Jill, Jim)
The Swan (instrumental)


Click here to return to our full list of musicals and operettas.
Warner/Chappell
For further information visit the Warner/Chappell website