Click here to return to our full list of musicals and operettas.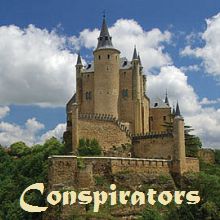 THE CONSPIRATORS
Music by Franz Schubert
Words and Text by J.F Castelli
Adapted by George Baker and Humphrey Trevelyan

Administered for rental and amateur stage rights by Boosey & Hawkes in the UK.
Licensing performances
If you wish to apply to perform the work, then please send an email to musicals@boosey.com stating the following information only:
1) Name of school/society
2) Where you are (city/town)
3) What you want to perform
4) When you want to perform (if exact dates are not yet known, then please provide the month)
We will then send you an application form by email to complete, along with details of costs involved. Once the form is completed and returned by email, a licence will be emailed to you for signature. Once signed we will be able to send you the music at the date requested on your application form.
Details of hire requirements should be submitted on the application form. We can provide orchestral parts (details below), as well as piano vocal scores (containing the libretto). Please note that you must use live musicians and the use of a backing track is strictly forbidden.
INSTRUMENTATION
1 Flute I/II
1 Oboe I
1 Oboe II
1 Clarinets I/II
1 Bassoon I
1 Bassoon II
1 Horn I/ II
1 Trumpet I
1 Trumpet II
1 Trombones I/II
1 Bass Trombone
1 Timpani
2 Violins I
1 Violin II
1 Viola
1 Cello
1 Double Bass


THE STORY (Late medieval times)
The plot of this one-act opera resembles 'Lysistrata' by Aristophanes and deals with an effective women's peace organisation. The Crusader husbands, commanded by Count Heribert von Ludenstein, are dissuaded from continually waging war by their wives, led by the Countess. They simply deny their husbands all 'matrimonial rights'. The Conspirators, although composed in 1823, was not performed until 1861, thirty three years after Schubert's death. The present version, in English, was first performed at Cambridge in 1954. The work lasts an hour and twenty minutes.


PRINCIPAL CHARACTERS
Total principals required are four sopranos, two contraltos, three tenors, two basses, some of these having smaller roles. The chorus writing is nearly all covered by the principal voices.


Click here to return to our full list of musicals and operettas.
Warner/Chappell
For further information visit the Warner/Chappell website