Click here to return to our full list of musicals and operettas.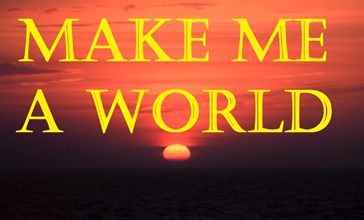 MAKE ME A WORLD
Music by Jim Parker
Books & Lyrics by Wally K. Daly

Administered for rental and amateur stage rights by Boosey & Hawkes in the UK.
Please follow this link to view the vocal score and libretto online, free of charge.
If you wish to apply to perform the musical, then please send an email to musicals@boosey.com stating the following information only:
1) Name of school/society
2) Where you are (city/town)
3) What you want to perform (Make Me a World)
4) When you want to perform (if exact dates are not yet known, then please provide the month)
We will then send you an application form by email to complete, along with details of costs involved. Once the form is completed and returned by email, a licence will be emailed to you for signature. Once signed we will be able to send you the music at the date requested on your application form.
Details of hire requirements should be submitted on the application form. We can provide orchestral parts (details below), as well as piano vocal scores and libretti. Please note that you must use live musicians and the use of a backing track is strictly forbidden.
INSTRUMENTATION
1 Guitar/Banjo
1 Bass
1 Drums/Vibes
1 Keyboard/Conductor


THE STORY (Biblical and rock affiliations)
This popular show, from the writers of Follow The Star, is based on episodes from the Old Testament beginning with the story of The Creation and finishing with the story of Moses. Olly, the head angel, oversees the creation and all goes to well until Lucifer rebels and Olly is forced to send him to Hell. Thereupon Lucifer portrays the devil and tries to undo all the good the angels have done. Olly decides the only way to rid the world of all of the bad people is to cause a flood – hence the story of Noah is incorporated – but Lucifer survives this and Olly nearly gives up hope. A little later Moses arrives and tells the angels that Pharaoh has captured his men and won't let them go. Olly suspects that Lucifer is behind this, which indeed he is. However at the end of the day Moses defeats Pharaoh (as well all know!), and good prevails over bad.


PRINCIPAL CHARACTERS
Olly
Lucifer
Chicago
Angy
Seraphino
Cherubim


PRINCIPAL MUSICAL NUMBERS
Creation Song (Olly)
I Hate Gardening (Chicago)
Male Me A World (Adam, Eve)
Out Of Tune With Your Heart (Eve)
Where Can I Park My Ark? (Noah)
Smile, Smile, Smile (Company)
Yesterday's Dreams (Olly)


Click here to return to our full list of musicals and operettas.
Warner/Chappell
For further information visit the Warner/Chappell website