Explore orchestral music
The Boosey & Hawkes catalogue has a wide range of music for orchestra, performed around the world in concert halls and recording studios.

Orchestral News
Visit our News Centre for all the latest orchestral news including...


> Mark Simpson: reviews of Cello Concerto premiere
> Sean Shepherd: Express Abstractionism in Boston
> B&H publishes forgotten works by Leokadiya Kashperova
> Beethoven 2020 anniversary: works inspired across the centuries
Orchestral Classics
Leading composers of orchestral music include:

Rachmaninoff's rich, Romantic scores, full of Russian colour, include Piano Concerto No.2, Symphonic Dances and Rhapsody on a Theme of Paganini. Major works worthy of exploration include the tone poem The Isle of the Dead and the choral symphony The Bells.
>Listen to Rachmaninoff's music

His highly original ballets Petrushka and The Rite of Spring are now among the most popular of 20th century orchestral works. Scores from Stravinsky's neoclassical period include Symphony of Psalms for orchestra and choir, and smaller-scale works including the Pulcinella Suite and Apollon musagète.
>Listen to Stravinsky's music

Copland was a total master of orchestral music, as heard in his ballet scores Appalachian Spring, Billy the Kid and Rodeo. Other works full of American flavour include El Salon Mexico and Music for a Great City. His ever-popular Fanfare for the Common Man appears in the finale of his Symphony No.3.
>Listen to Copland's music

Bartók's most widely performed orchestral works are the Concerto for Orchestra and virtuosic concertos that continue to attract the world's leading soloists: Piano Concerto No.3, Violin Concerto No.2 and the posthumous Viola Concerto. B&H is also the US publisher for Music for Strings, Percussion & Celesta, the Miraculous Mandarin Suite and the Dance Suite.
>Listen to Bartók's music

The rhythmic energy of Bernstein's theatre works comes to the concert hall with the Candide Overture, Symphonic Dances from West Side Story and the On the Town Dance Episodes. Symphonic works include Serenade for violin and orchestra and The Age of Anxiety for piano and orchestra.
>Listen to Bernstein's music

Britten's orchestration shows clarity and colour, as heard in the Four Sea Interludes, the Young Person's Guide to the Orchestra and the powerful Sinfonia da Requiem. Works with string orchestra include Variations on a theme of Frank Bridge, and the song cycles Serenade and Les Illuminations.
>Listen to Britten's music

Evergreen favourites by Prokofieff include the Classical Symphony, Lieutenant Kijé and the Suite from the Love for Three Oranges. B&H also publishes in the UK and Commonwealth the ballet music from Romeo and Juliet, Symphony No.5 and Alexander Nevsky.
>Listen to Prokofieff's music

His skills in operatic music can be heard in early 20th century scores such as Salome's Dance and the Rosenkavalier Suite, while his tone poems include Symphonia Domestica. His late flowering in the 1940s included the Four Last Songs, Metamorphosen and the Oboe Concerto.
>Listen to Strauss's music
New Orchestral Works
Also explore exciting new works by B&H's leading contemporary composers who specialise in orchestral music
Other highlights of the Boosey & Hawkes orchestral catalogue include works by Delius, Einem, Elgar, Gerhard, Ginastera, Goldschmidt, Kodály, Markevitch, Martinu, Panufnik, Reger, Rorem and Yun.

b.1947 Worcester, USA
Short Ride in a Fast Machine ... Violin Concerto ... Century Rolls ...
>Listen to John Adams's music

b.1934 Accrington, UK
The Shadow of Night ... Exody ... Bach Measures ...
>Listen to Harrison Birtwistle's music
b.1908 New York City, USA; d.2012 New York City, USA
Symphonia ... Boston Concerto ... Three Illusions ...
>Listen to Elliott Carter's music

b.1958 Helsinki, Finland
Feria ... Clarinet Concerto ... Sculpture ...
>Listen to Magnus Lindberg's music

b.1959 Kilwinning, UK
The Confession of Isobel Gowdie ... Veni, Veni, Emmanuel ... Piano Concerto No.3 ...
>Listen to James MacMillan's music

b.1934 Manchester, UK
An Orkney Wedding, with Sunrise ... Trumpet Concerto ... Antarctic Symphony ...
>Listen to Peter Maxwell Davies's music

b.1949 Baltimore, USA
Trombone Concerto ... Concert de Gaudí ... Rapture ...
>Listen to Christopher Rouse's music

b.1960 Corringham, UK
From the Wreckage ... Chicago Remains ... Speranza ...

>Listen to Mark-Anthony Turnage's music
For a fuller list of Boosey & Hawkes contemporary composers please visit our Contemporary area.
Youth Orchestra
Boosey & Hawkes in conjunction with the National Association of Youth Orchestras (UK) invites youth orchestras to explore the rich and exciting repertoire created by 20th century and contemporary composers. Our list of works has been specially selected and graded for youth orchestra, and information includes helpful suggestions for training and rehearsals.
>Download a PDF list of works for youth orchestra
Search, Rental and Sale
You can search our extensive catalogue of orchestral music on rental and place an online order via our Rental area. You can buy orchestral scores from our Online Shop or from your local dealer.
Page Menu
Explore orchestral music
Orchestral News
Orchestral Classics
Sergei Rachmaninoff
Igor Stravinsky
Aaron Copland
Béla Bartók
Leonard Bernstein
Benjamin Britten
Serge Prokofieff
Richard Strauss
New Orchestral Works
John Adams
Harrison Birtwistle
Elliott Carter
Magnus Lindberg
James MacMillan
Peter Maxwell Davies
Christopher Rouse
Mark-Anthony Turnage
Youth Orchestra
Search, Rental and Sale

New Music for Orchestra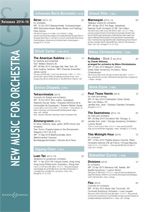 View the latest New Music for Orchestra from Boosey & Hawkes, completed or premiered between 2016 and 2018.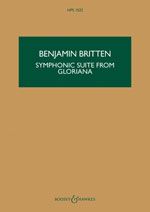 Benjamin Britten
Symphonic Suite from Gloriana
Study Score

This orchestral suite was extracted by Britten from his 1953 coronation opera Gloriana, taking us through the opening Tournament, Essex's haunting Second Lute Song, the vigorous Courtly Dances and the opera's moving Epilogue.