English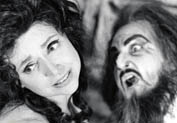 Photo:Tom Barnett, Courtesy The Washington Opera
World Premiere Performance by The Washington Opera, September 1971
Ginastera, Alberto
Beatrix Cenci (1971)
Dauer: 90 Minuten
Opera in two acts and fourteen scenes
Libretto by William Shand and Alberto Girri (S,F)
Besetzung
Major roles: 2S,M,T,2Bar; minor roles; 2T,3B,2male speakers; chorus 3(III=picc).3(III=corA).3(III=bcl).2.dbn-4.4.4.1-timp.perc(3):glsp/ vib/bells(3 sets)/xyl/wind chimes (wood)/3 flex/3Chinese gongs/ Javanese gong/susp.crash cyms/BD/SD/5bongos/5congas/5tom-t/cowbells/ tamburo/tgl/tamb/wdbl/tam-t/whip/ratchet/crots/tpl.bl-cel-organ- mand-harp-strings.
Abkürzungsverzeichnis (PDF).
Vertriebsgebiet
Dieses Werk ist erhältlich bei Boosey & Hawkes für Aufführungen in der ganzen Welt.
Uraufführung
9/10/1971
Kennedy Center, Washington, DC
Gerald Freedman, director / Joyce Trisler, choreography
Dirigent: Julius Rudel
Ensemble: Opera Society of Washington
Rollen

| | |
| --- | --- |
| BEATRIX CENCI | Sopran |
| GRAF FRANCESCO CENCI, Beatrix' Vater | Bariton |
| LUCRECIA, Beatrix' Stiefmutter | Mezzosopran |
| BERNARDO, Beatrix' Bruder | Sopran |
| GIACOMO, Beatrix' Bruder | Bariton |
| ORSINO, ein Prälat | Tenor |
| ANDREA, Diener des Grafen | Baß |
| OLIMPIO, ein Mörder | Sprechrolle |
| MARZIO, ein Mörder | Sprechrolle |
| Ein Wächter | Baß |
| 1. Gast | Tenor |
| 2. Gast | Tenor |
| 3. Gast | Baß |
| Edelleute, Wächter, Tänzer, Diener usw. | |
Ort und Zeit
Der Cenci-Palast in Rom, im 14. Jahrhundert
Zusammenfassung
Graf Francesco Cenci, beim Volk verhasst und von seiner Tochter Beatrix und seiner zweiten Frau Lucrecia gefürchtet, arrangiert einen Maskenball, bei dem er den Tod seiner beiden Söhne feiern will. Beatrix sucht zu entkommen, indem sie ihrem früheren Verehrer Orsino, der in den geistlichen Stand getreten ist, einen Brief an den Papst übergibt; Orsino zerreißt den Brief jedoch. Die über den Anlass des Festes entsetzten Gäste entfernen sich und lassen die flehende Beatrix zurück, die nun voller Angst mit ihrem wahnsinnigen Vater allein bleibt. Orsino trifft ein, belügt sie über den Brief und behauptet, der Papst habe ihre Bitte abgewiesen. Er überlässt Beatrix ihrem Vater, der sie vergewaltigt.

Im Exil lässt sich Beatrix von ihrem älteren Bruder Giacomo überreden, ihren Vater umzubringen. Sie beauftragt zwei Mörder, Olimpio and Marzio. Lucrecia gibt Cenci einen Schlaftrunk und liefert ihn den Mördern aus. Sie erstechen den Grafen und verstecken seine Leiche. Monate später verkündet Orsino, dass man den Leichnam des Grafen gefunden hat; einer der beiden Mörder wurde getötet, der andere hat die Tat gestanden. Beatrix wird verhaftet, gefesselt und gefoltert. Sie stirbt auf dem Schafott.
Stimmung
dramatisch, tragisch
Themen
Geschichte, Beziehungen, Politik, Gesellschaft