English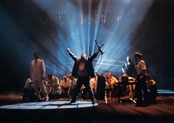 Photo:Sakari Viika
The Finnish National Opera
Adams, John
The Death of Klinghoffer (1990)
Dauer: 140 Minuten
Opera in two acts
Libretto by Alice Goodman (E)
Besetzung
S,M,C,T,3Bar,B; chorus(min:24 singers); dancers
orchestra: 2(I,II=picc).2(II=corA).2(II=bcl).2(II=dbn)-2.2.2.0-perc(1):KAT MIDI mallet controller/timp-2kbd samplers-harp-strings(8.8.6.6.4)

For complete technical specifications go to: mhgrey.wordpress.com.
Abkürzungsverzeichnis (PDF).
Vertriebsgebiet
Dieses Werk ist erhältlich bei Boosey & Hawkes für Aufführungen in der ganzen Welt.
Uraufführung
3/19/1991
Théâtre de la Monnaie, Brussels
Peter Sellars, director/Mark Morris, choregrapher
Dirigent: Kent Nagano
Ensemble: Théâtre de la Monnaie
Rollen

| | |
| --- | --- |
| DER KAPITÄN | Bariton |
| ERSTER OFFIZIER | Baßbariton |
| DIE GROßMUTTER aus der Schweiz | Mezzosopran |
| MOLQI | Tenor |
| MAMOUD | Bartion |
| Österreichische Frau | Mezzosopran |
| LEON KLINGHOFFER | Bariton |
| "Rambo" | Baßbariton |
| Britische Tänzerin | Mezzosopran |
| OMAR | Mezzosopran |
| MARILYN KLINGHOFFER | Alt |
Ort und Zeit
An Bord des Kreuzers Achille Lauro, einige Stunden vor dem Hafen von Alexandrien, 1985
Zusammenfassung
The Death of Klinghoffer ist eine fiktive Darstellung des berüchtigten Vorfalls auf der Achille Lauro im Jahre 1985, als palästinensische Terroristen an Bord des italienischen Kreuzfahrtschiffes gingen, die Passagiere und die Mannschaft als Geiseln nahmen und einen älteren Juden im Rollstuhl, Leon Klinghoffer, töteten. Bei Beginn der Oper haben die Terroristen das Schiff einige Stunden vor dem Hafen von Alexandria entführt, die Motoren abgeschaltet und den Ersten Offizier mit Waffengewalt gefangen genommen. Der Kapitän versucht mit Mühe die Passagiere zu beruhigen. Sie werden zusammengedrängt und zuweilen von den Geiselnehmern verhöhnt. Der Kapitän wird an Deck vom Terroristen Mamoud bewacht. Während das Boot treibt, tauschen die beiden Männer Gedanken aus. Leon Klinghoffer wird unter Deck geführt und erschossen; die Terroristen teilen dem Kapitän den Mord mit. Er muss die Behörden an Land informieren, dass weitere Geiseln sterben können. Ein anderer Terrorist, Molqi, entscheidet, dass keine anderen Passagiere umgebracht werden. Es wird vereinbart, dass der Kapitän das Schiff nach Kairo bringt, wo die Terroristen an Land gehen können. Das Schiff legt in Kairo an; der Kapitän informiert Marilyn Klinghoffer über den Tod ihres Mannes. Sie lässt all ihrer Wut und Trauer freien Lauf.
Rezeption
The Death of Klinghoffer, John Adams's second opera, travelled widely in its 1991 premiere production by Peter Sellars, and was recorded by Nonesuch. Subsequent productions have included a staging by Tony Palmer for Finnish National Opera in 2001. The work effectively crosses boundaries between opera and oratorio, resulting in part from the influence of the Bach Passions. This ritualised quality has brought the work equal success in concert performance. Running through the opera is a series of choruses, which can be performed in concert in their own right.
Stimmung
tragisch
Themen
zeitgenössisch, Ethik, Geschichte, Religion, Politik
Empfohlene Aufnahme
Sanford Sylvan / James Maddalena / Sheila Nadler /
The Orchestra of the Opéra de Lyon / Kent Nagano
Elektra / Nonesuch 7559-79281-2
Click here to purchase this CD from our online shop
Christopher Maltman/Sanford Sylvan/Yvonne Howard/Tom Randle
London Symphony Orchestra and Chorus/John Adams, cond/Penny Woolcock, dir
Decca DVD Video 074 189-9
Click here to purchase this DVD Video from Amazon
Kaufausgaben