English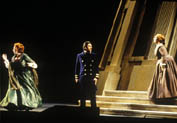 Foto:Dan Rest
Performed by The Chicago Lyric Opera , October 1998, director Liviu Ciulei
Levy, Marvin David
Mourning Becomes Electra (1967, revised 1998-2002)
Duración: 150 minutos
Lyric tragedy in three acts
Libretto by Henry W Butler after the play by Eugene O'Neill (E,G)
Orquestación
dramS,lyrS,S,heldBar,Bar,lyrBar,BBar,B; chorus

ORCHESTRA:2.picc.2.corA.2.bcl.2.dbn-4.3.2.btrbn.1-timp-perc**(3-4):BD/tpl.bls/ratchet/tam-t/sleigh bells/TD/tgl(L)/whip/susp.cym/tom-t/sizzle cyms/SD/chimes/bongos/tamb/crash cyms/roto-toms(6",8",10")/wdbl(S)/guiro/chinese bell tree-harp-gtr-ekybd samplers*-strings:(12.10.8.6.4)
BANDA:2tpt.ttrbn.btrbn

electronic keyboard*: Kurzweil K2000 or K2500SX w/ Orchestral ROM updates. Other samplers acceptable, but pre-programmed disk, providing cues in consecutive order to facilitate players' immediate accessibility to one cue after another w/o having to search for the patch number, is available only for the Kurzweil.
percussion**:with some doubling and, depending on space and budget and some instrument duplication, the part can be performed by 3/4 players

production notes: 8 Characters (plus Supernumeraries), 4 Stage sets: facade of Mannon house, bedroom, parlor with adjoining study, upper and lower decks of Brant's ship, 1998. Chicago Lyric sets and costumes, rental available; Seattle and New York City Operas, 2003-2004 new co-production sets and costumes rental available.
NOTE: This work requires additional technological components and/or amplification. .
Abreviaturas
(PDF).
Territorio
Este trabajo está disponible a través de Boosey & Hawkes para el mundo.
Uraufführung
3/17/1967
Metropolitan Opera House, New York, New York
Michael Cacoyannis , Regisseur
Director: Zubin Mehta
Compañía: The Metropolitan Opera
Erstaufführung der Fassung
10/18/2003
Marion Oliver McCaw Hall, Seattle
Bartlett Sher, Regisseur
Director: Richard Buckley
Compañía: Seattle Opera
Ánimos
Dramatic, Tragic
Temas
Relationships