English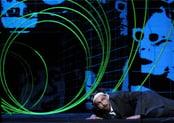 Foto:Jörg Landsberg
Bremen 2005 (WP); David Mouchtar-Samorai, dir.
Kalitzke, Johannes
Inferno (2004)
Duración: 100 minutos
based on the play of the same title by Peter Weiss
Libretto adaptation: Johannes Kalitzke (G)
Orquestación
lightS,S,2A,CT,heldT,3T,charBar,Bar,BBar; mixed chorus; 2(I=rec,picc;II=afl,picc).2(II=corA).2(II=bcl).bcl.asax.tsax.2(II=dbn).dbn-4.3.2.1-timp.perc(3)-elec.git-theorbe-pft(=synth)-cel(=synth)-strings(10.8.6.5.4)-tape-live electronics; 4trbn and perc off-stage .
Abreviaturas (PDF).
Territorio
Este trabajo está disponible a través de Boosey & Hawkes para el mundo.
Uraufführung
6/11/2005
Theater am Goetheplatz, Bremen
David Mouchtar-Samorai, Regisseur
Director: Stefan Klingele
Compañía: Theater Bremen
Nota del repertorio
Peter Weiss (1916–1982) is one of the most important writers in German of the second half of the 20th century. In the mid-1960s, Weiss planned a trilogy inspired by Dante's Divina Commedia. The third part of the trilogy, based on the Paradiso section of Divina Commedia, was premiered on 16 stages at the same time in 1965. Under the title Die Ermittlung, it explores the records of the Auschwitz trial in Frankfurt. Inferno was completed in 1964; left to the author's estate, it was not published until 2003 and has not been performed on stage so far.

Inferno is a piece about post-war Germany and the author's own life in emigration, his experiences as a Jew and as a German-speaking author abroad. In collaboration with the director of the premiere, David Mouchtar-Samorai, Johannes Kalitzke has abridged Peter Weiss's text without adapting the wording of the remaining material. The main characters in Inferno, as in Divina Commedia, are Dante himself and the Roman poet Virgil. Dante returns to the land of perpetrators, where they want to use him in order to rid themselves of their guilt. As Weiss put it in 1964, "Inferno is today's Germany… yesterday's murderers at the head of modern business, industry and culture."
Ánimos
Dramatic
Temas
History, Politics, Literary