English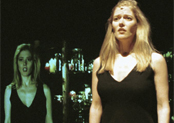 Foto:Co Broerse
Amsterdam 2003 (Barbara Hannigan, soprano)
Aa, Michel van der
One (2002)
Duración: 60 minutos
Chamber opera for soprano, video and soundtrack
Music, libretto (E), video, directed by Michel van der Aa
Abreviaturas
(PDF).
Territorio
Este trabajo está disponible a través de Boosey & Hawkes para el mundo.
Uraufführung
1/12/2003
Frascati Theatre, Amsterdam
Michel van der Aa, Regisseur
Compañía: Barbara Hannigan, soprano
Nota del repertorio
In One Van der Aa combines singing, video and electronic sounds. The theatrical performance of the protagonist is supported and complemented by video images. The video projections and the live sections form a perfect fit with each other.
Ánimos
Dramatic
Temas
Magic/Mystery, Relationships
Grabación recomendada
Barbara Hannigan, soprano / Michel van der Aa, stage & video director
Disquiet Media DVD DMQ03
www.disquietmedia.net