English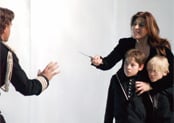 Foto:Armin Bardel
Vienna 2008 (FP of new edition), Torsten Fischer dir.
Cherubini - Cullmann (CHERUBINI-EDITION)
Médée (1793-97)
(Medea)
Duración: 165 minutos
Opéra in three acts
Libretto by François-Benoît Hoffman (F)
Orquestación
4S,M,T,BBar,spoken role,2silent roles; mixed chorus; 2(I=picc).2.2.2-4.0.1(+1 opt trb).0-timp-strings; wind instruments from orchestra and thunder machine off-stage.
Abreviaturas (PDF).
Territorio
Este trabajo está disponible a través de Boosey & Hawkes para el mundo.
Uraufführung
3/13/1797
Théâtre Feydeau, Paris
Compañía: Julie-Angélique Scio (Médée) / Pierre Gaveaux (Jason)
Erstaufführung der Fassung
3/6/2008
Theater an der Wien, Wien
Torsten Fischer, Regisseur
Director: Fabio Luisi
Compañía: Iano Tamar / Zoran Todorovich / Arnold Schoenberg Chor / Wiener Symphoniker
Nota del repertorio
The commanding role of Medea provokes both sympathy and dismay; Cherubini's music draws us into her inner struggle, the dramatic shift from love to devastating hatred. Rather than focussing on the plot itself, however, the opera explores the psychological processes experienced by the characters. With its stylistic diversity, its dark grandeur and sublimity as well as its grand, self-contained musical scenes, Médée points far beyond the operas of Cherubini's contemporaries. Hence the acclaim for the work expressed by Haydn, Beethoven, Mendelssohn, Schumann, Wagner and Brahms does not come as a surprise; indeed, Brahms went so far as to praise Médée as the "highest dramatic art".
Ánimos
Tragic
Temas
Mythology
Grabación recomendada
Michael, Streit, Stotijn, Le Texier, Van Kerckhove / Les Talens Lyriques & Chœurs de la Monnaie / Christophe Rousset (Brussels 2011, directed by Krzysztof Warlikowski)
Bel Air Classiques DVD & Blue-Ray
Artículos en venta