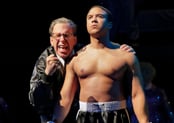 Photo: Photo: Ken Howard
Courtesy of Opera Theatre of Saint Louis
Blanchard, Terence
Champion (2013)
Duration: 120 minutes
Opera in 2 acts
Libretto by Michael Cristofer (E)
Scoring
Orchestra: 1.1.1.bcl.1-3.3.2.1-timp-perc(3-4):vib/fight bell/BD/parade whistle/hand claps/snare dr/susp.cym/crash cym/cowbell/shaker/congas/piatti-harp-strings
Jazz Trio/Quartet: pft-gtr-db-dr(trap set)
Abbreviations (PDF)
Territory
This work is available from Boosey & Hawkes for the world.
World Premiere
15/06/2013
Loretto-Hilton Center, St. Louis, MO
Arthur Woodly, Aubrey Allicock, Denyce Graves-Montgomery, Robert Orth, Meredith Arwady, Victor Ryan Robertson, Brian Arreola
Conductor: George Manahan
Company: Opera Theatre of St. Louis

Roles
| | |
| --- | --- |
| Emile Griffith | Tenor |
| Young Emile Griffith | Bass-baritone |
| Emelda Griffith, Emile's mother | Mezzo-soprano |
| Howie Albert, Emile's trainer | Baritone |
| Kathy Hagan, a bar owner | Mezzo-soprano |
| Benny 'Kid' Paret/Benny Paret Jr., a boxer/his son | Tenor |
| Luis Rodrigo Griffith, Emile's adopted son and caretake | Tenor |
| Sadie Donastrog Griffith/Cousin Blanche | Soprano |
| Little Emile, Emile as a young boy | Boy soprano |
| Ring Announcer | |
| A Chorus of Reporters, Photographers, Hat Makers, Men at the Boxing Gym, Caribbean Paraders, and Drag Queens | |
Time and Place
1940's in the Virgin Islands through early 2000's in New York City
Synopsis
Act I
In his apartment in Hempstead, Long Island, Emile Griffith is struggling to get dressed. Suffering from dementia, he is confused and haunted by his past. Luis, his adopted son and caretaker, reminds him to be ready for an important meeting with Benny Paret, Jr.
Late 1950's
Emile is a young man again in St. Thomas, the US Virgin Islands. He yearns to find his mother, Emelda, and make it big in America as a singer, a baseball player, a designer of hats.
Act II
Back in his bedroom in the present, Emile is haunted by the ghost of Kid Paret who still questions his old opponent.
Mid/Late 1960's
Emile Griffith is enjoying a strong winning streak all over the world. Titles, trophies, and money roll in, but he remains disturbed by the death of Kid Paret. He tries living it up, and, denying his own identity, he takes a young bride, Sadie, although everyone including Emelda – who remembers her own childhood back in the Islands – warns him against it.
Mid 1970's
After the wedding, Emile's luck seems to have changed. He's now on a losing streak and starting to display signs of "boxer's brain," or trauma-related dementia. Howie realized that Emile's days are numbered and tried to console him, but Emile rejects Howie, as well as his wife and his mother. Instead, he looks for comfort back at Kathy's bar. Outside in the street, he is taunted by a group of thugs. They beat him violently, exacerbating his brain injuries.
Back in the present, Emile relives the nightmare of the attack. Luis tried to comfort him. "That was long ago," says Luis. In a New York City park, Emile asks for forgiveness from Benny Jr. Luis tells Benny that since that terrible evening Emile has struggled to find peace with what he has done and who he truly is. Back at home, the voices and memories subside. Emile Griffith, the former welterweight champ, can now take life one day at a time.
Press Quotes
"...a new work that deserves to be taken up by other opera producers far and wide... It's no mean feat to integrate hard bop, scat singing, driving Afro-Caribbean rhythms and lyrical arioso into a coherent and fluid musical unity, but Blanchard has done so brilliantly. The vocal writing is singable and appealing and nearly always supports and propels the dramatic action."
Chicago Tribune
Subjects
Ethics, Relationships, Society
Email Newsletters
Sign up for news updates and offers via email
SIGN UP
ONLINE SCORES