Deutsch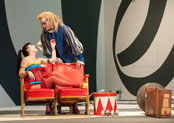 Photo: Stephanie Schweigert
Baden-Baden 2015, Anna Drescher dir.
Offenbach - Keck
La Princesse de Trébizonde (OEK critical edition) (1869)
(Die Prinzessin von Trapezunt)
Duration: 120 minutes
Opéra-bouffe in three acts
Libretto by Charles Nuitter and Etienne Tréfeu; original German version by Julius Hopp; new English version by Charles Lamb Kenney (lyrics) & Richard Duployen (dialogue) (F,G,E)
Scoring
5S,5T,2B,4speaking roles; chorus; 2(I=picc).1.2.1–2.2.1.0–timp.perc(3)–strings.
Abbreviations (PDF).
Territory
This work is available from Boosey & Hawkes for the world.
World Premiere
31/07/1869
Kurtheater, Baden-Baden
Conductor: Jacques Offenbach
Company: Singers of the Théâtre des Bouffes-Parisiens, Paris / Kurorchester Baden-Baden
World premiere of version
28/03/2015
Theater, Baden-Baden
Anna Drescher, director
Conductor: Stanley Dodds
Company: Orchester Akademie & Mitglieder der Berliner Philharmoniker
Roles

| | |
| --- | --- |
| PRINCE KASIMIR | Tenor |
| RAPHAEL, his son | Tenor |
| SPARADRAPP, Raphael's educator | speaking role |
| CABRIOLO, director of a company of tightrope walkers | Bass Baritone |
| ZANETTA and REGINA, his daughters | Sopranos |
| PAOLA, his sister | Mezzo-Soprano |
| TREMOLINI, a clown | Tenor |
| Director of the lottery | Bass |
| Circus audience, peasants | |
Synopsis
Harmless and boisterous as the plot may be, it still derives from one basic idea: a poor, merry company of tightrope walkers suddenly becomes rich but cannot control its longing for the old vagabond life. The poor company of travelling entertainers, glittering with trumpery, whom we see at work drawing up the curtain, is depicted with a fresh realism. The second act is a funny opposite of the first one: the whole family of tightrope walkers strutting as the new "lordships" in the splendid castle gardens of the villa, dressed up with ridiculous elegance. Despite all the luxury, the good people are awfully bored. "Do you believe, Papa," Regina asks the old man who plays a cavalier, "that I do not notice you sneaking into the garden at night to do somersaults? And did you not climb onto the ropes hung up for clothes and then secretly eat fire in the kitchen only yesterday?" (Eduard Hanslick)
Moods
Comic
Subjects
Relationships, Society
Mailing List
Sign up for news updates and offers via email
SIGN UP
ONLINE SCORES