Deutsch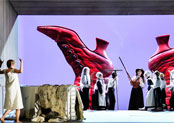 Photo: Danielle Liniger
WP Zürich 2016, Floris Visser dir.
Valtinoni, Pierangelo
Der Zauberer von Oz (2015-16)
(The Wizard of Oz)
Duration: 100 minutes
Fairytale opera in 2 acts
Libretto by Paolo Madron after Lyman Frank Baum; German version by Hanna Francesconi (G,I)
Scoring
2S,M,T,Bar,B; children's chorus; vocal ensemble (S-M), silent roles; 1(=picc).1.1.1-2.1.0.0-perc(2):I=3timp; II=glsp/xyl/cowbells/SD/crot/gong/BD/hi-hat/susp.cym/cyms/bells/tgl/wdbl/t.bells/claves/clapper/thunder sheet/wind chime/metal pieces-harp-pft(=cel)-accordion-strings(1.1.1.1.1).
Abbreviations (PDF).
Territory
This work is available from Boosey & Hawkes for the world.
World Premiere
19/11/2016
Opernhaus, Zürich
Floris Visser, director
Conductor: Kristiina Poska
Company: Opernhaus Zürich / SoprAlti / Kinderchor der Oper Zürich / Philharmonia Zürich
Roles

| | |
| --- | --- |
| DOROTHY | Soprano |
| The SCARECROW | Tenor |
| The TIN WOODMAN | Baritone |
| The COWARDLY LION | Bass |
| The Good Witch of the North / The Good Witch of the South / The Queen of the Field Mice | Soprano |
| The Wicked Witch of the West | Mezzo-soprano |
| The Wizard of Oz / The Guardian of the Gates | Actor |
| The Munchkins / The Field Mice | children's chorus |
| The People of the Emerald City | vocal ensemble (sopranos/mezzo-sopranos) |
| The Winged Monkeys | silent roles |
| Toto | cloth dog |
Synopsis
Dorothy grows up in Kansas with her uncle and aunt. Her adventures begin the moment a dangerous tornado sweeps over the farm and carries off the house, together with Dorothy and her dog Toto, to the far-off land of the Munchkins. The house falls onto the Wicked Witch of the East, of all people, thus triggering a series of fantastical events. Admittedly, the Wicked Witch of the East's red shoes lend Dorothy magical powers, but she also has to pass the most gruelling of tests.

But Dorothy is not alone: on her journey, she encounters a scarecrow whose dearest wish is to be given a real brain rather than merely having a head full of straw. The pair also encounters a rusty tin man who would like to have a heart. Another travelling companion is a lion, who has a powerful roar, but otherwise believes he is very cowardly. Together, they set off to find the mysterious Wizard of Oz in the Emerald City, who is supposed to help Dorothy find her way home. They are repeatedly threatened by the Wicked Witch of the West, and even the powerful Wizard of Oz ultimately turns out to be a fraud: his spells have no effect. But time and again, the travelling quartet, including the little dog, prove that they have kind hearts, intelligence and courage, and ultimately survive all their adventures with bravura.
Opernhaus Zürich
Press Quotes
"A story about friendship and the feeling of security, about fears and overcoming them. And also about music, which makes everything easier, livelier ... Valtinoni masters the balancing act between pretence and entertainment, between opera and musical. His music is richly varied, rhythmical; at times it sounds a bit like Kurt Weill, and then again like Leonard Bernstein, and yet finds its own sound ... Beautiful melodies, suggestive children's choruses, passages that make you tap your toes: there's plenty of that. And the fact that the wizard is the only one who doesn't sing is a cute point." (Susanne Kübler, Tagesanzeiger, 20.11.2016)
Moods
Poetic
Subjects
Magic/Mystery, Literary
Mailing List
Sign up for news updates and offers via email
SIGN UP
ONLINE SCORES