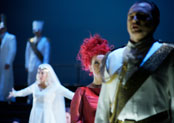 Photo: Ilja Mess
Ulm 2015, Igor Folwill dir.
Cherubini - Cullmann
Médée (1793-97)
(Medea)
Duration: 165 minutes
Tragédie lyrique in three acts (recitatives by Alan Curtis)
Libretto by François-Benoît Hoffman (F)
Scoring
2S,M,T,BBar; small roles:2S,Bar; silent roles; mixed chorus;
2(I=picc).2.2.2-4.0.1(+1 opt trb).0-timp-strings; wind instruments from orchestra and thunder machine off-stage
Abbreviations (PDF)
Roles
| | |
| --- | --- |
| MEDEA | Soprano |
| JASON | Tenor |
| CREON, king of Corinth | Bass-Baritone |
| DIRCE, Creon's daughter | Soprano (Coloratura Soprano) |
| NERIS, Scythian slave | Mezzo-Soprano |
| Confidants of Dircé | 2 Sopranos |
| Head of the guards | Baritone |
| The two sons of Jason and Medea | silent roles |
| Maidens of Dircé, Argonauts, Guards of Creon, People of Corinth, Priests | |
Time and Place
Corinth, in Creon's palace
Synopsis
Once upon a time, the Thessalian prince Jason and his soldiers conquered Colchis. Médée, the king's daughter, who possesses magical powers, fell in love with Jason, notwithstanding his treason against her country and family. She bore him two sons and helped him to seize the Golden Fleece. In Corinth, where Jason has sought refuge, he presents his war loot. The Fleece – a symbol of power – is to become Corinthian property. In exchange for the Fleece, King Créon offers Jason his daughter Dircé's hand in marriage. Full of misgivings, Dircé fears that Jason might abandon her in the future, as he abandoned Médée. Her fears seem justified when Médée suddenly bursts in on the wedding preparations, but she fails in her attempt to reclaim her former rights and win back Jason. Créon banishes her from the city for the crimes that she committed in the past. Feigning humility, she is granted a day's grace and is allowed to see her children once more. While the wedding ceremony of Jason and Dircé proceeds, Médée plans her terrible revenge. Shortly afterwards, Dircé dies as a result of the poison-soaked festive dress that her rival sends her. Haunted by conflicting emotions, Médée first asks the slave Néris to bring her two sons to safety, but eventually decides to commit a terrible deed – killing her own children. Jason's marriage is in tatters and Médée withdraws from the scene.