Deutsch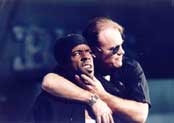 Photo: Southwark Playhouse
Adams, John
I was looking at the ceiling and then I saw the sky (1995)
Duration: 110 minutes
Songplay in two acts
Libretto and lyrics by June Jordan (E)
Scoring
3M,highT,T,2Bar
Orchestra: 2reeds(I=cl,bcl,II=asax)-3kbd(I=pft/sampler,II=sampler,III=synth)-gtr(=elec.gtr)-db(=elec.bgtr)-drum kit(=MIDIdrums)

NOTE: The hiring of a sound designer is a condition/requirement for permission.

For complete technical specifications go to: mhgrey.wordpress.com
Abbreviations (PDF)
Territory
This work is available from Boosey & Hawkes for the world.
World Premiere
03/05/1995
Zellerbach Playhouse, University of California, Berkeley
Peter Sellars, director
Conductor: Grant Gershon
Company: Paul Drescher Ensemble
Roles

| | |
| --- | --- |
| Tiffany, a white TV crime-as-news reporter | Mezzo-soprano |
| David, a black Baptist minister | High Tenor |
| Mike, a white cop | Baritone |
| Dewain, a black reformed gang leader | Baritone |
| Leila, a black graduate student working as a sex counsellor in an abortion clinic | Mezzo-soprano |
| Consuelo, an undocumented immigrant mother of two, from El Salvador | Mezzo-soprano |
| Rick, a Vietnamese American legal aid defence attorney | Tenor |
Time and Place
1990s, Los Angeles, California
Synopsis
In a poor neighborhood of Los Angeles, the lives of seven young characters become entwined when Dewain, a former gang leader, is arrested by a policeman (Mike) for shoplifting two bottles of beer. He had been hurrying home to see his girlfriend Consuelo, an undocumented political refugee from El Salvador who is the mother of his baby. Dewain faces a harsh mandantory sentence if convicted of this petty crime, his third offense. Mike's arrest of Dewain is captured on videotape for a local TV station program hosted by Tiffany, an anchorwoman. Tiffany is attracted to Mike, but her interest is not reciprocated. Meanwhile, David, a charismatic local preacher, is romancing Leila, a community activist. Rick, the public defender assigned to Dewain's case, makes an impassioned plea in court for releasing Dewain. An earthquake hits the city, and the crisis causes much soul-searching. David realizes he is truly in love with Leila. Mike acknowledges that he is gay; Tiffany turns her attention toward Rick, who was dazzled by her at the trial. Consuelo tries to convince Dewain to run away with her to El Salvador, but he decides to stay.
Composer Notes
"I was looking at the ceiling and then I saw the sky" was a quote from a survivor of the 1994 Northridge earthquake, a catastrophe that devastated a large part of the northern Los Angeles area. The librettist June Jordan found this phrase in the Los Angeles Times and offered it to me as the title for what I wanted to be a Broadway-style show. After composing two grand operas, "Nixon in China" and "The Death of Klinghoffer," I'd realized that the only truly indigenous form of American musical thater was what we call, for lack of a more precise term, the "musical." My first appearance onstage as a child was in a small-town production of Rogers and Hammerstein's "South Pacific", with my mother acting the role of Bloody Mary. In my youth I knew all the famous American shows more or less by heart, and my later discovery of "West Side Story" convinced me that this particular theatrical form could actually attain the level of genuine art. Another American icon, Gershwin's "Porgy and Bess", also stood as a model although as a theaterical entity it had serious formal problems.
"Ceiling/Sky" is essentially a polyphonic love story in the style of a Shakespeare comedy. The characters, all inner-city young people in their twenties, play out their personal dramas against the backdrop of specific social and political themes that were of importance not only to me but to June Jordan (the late poet and much esteemed essayist on African-American culture) and to the stage director Peter Sellars. They include racial conflict, relations with the police and authority in general, the persecution of immgrants (so large an issue in Southern California), and sexual identity. The Northridge quake, a natural catastrophic event that occurs near the beginning of Act II, acts as a kind of Deus ex Machina that forces inner transformations in the lives of the various characters. For this reason June Jordan gave us the whimsical description of the piece: an "earthquake/romance."
The music consists of 20 songs in the pop mode but with particular Adamsian rhythmic and harmonic twists. For the original production Peter Sellars put the 8-piece amplified band on the stage and asked the singers to act their roles while holding microphones. After the Berkeley run, the second act was substantially revised, several songs added, the band was moved to the pit and the singers given body microphones. The original 1995 production played over fifty performances in Berkeley, Montreal, New York, Edinburgh, Helsinki, Paris and Hamburg.
Reproduction Rights:
This programme note can be reproduced free of charge in concert programmes with the following credit line:
reprinted with kind permission of www.earbox.com

Moods
Dramatic
Subjects
Contemporary, Relationships, Society
Recommended Recording
Soloists of Young Opera Company Freiburg / The Band of Holst Sinfonietta / Klaus Simon
Naxos 8.669003-04
Available from www.naxos.com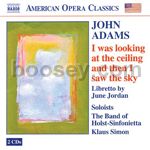 Audra McDonald, Michael McElroy, Welly Yang, Angela Teek, Darius de Haas, Marin Mazzie, Richard Muenz, Avanti! Ensemble, John Adams
Nonesuch 7559794732
>Click here to purchase this CD
>To purchase June Jordan's libretto from Amazon click here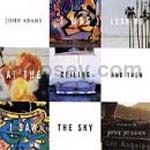 Mailing List
Sign up for news updates and offers via email
SIGN UP
ONLINE SCORES