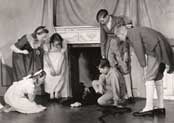 Photo: Desmond Tripp
The English Opera Group, 1951
Britten, Benjamin
The Little Sweep (1949)
Duration: 45 minutes
The opera from 'Let's make an Opera', an entertainment for young people
Libretto by Eric Crozier (E,Bg,Cz,F,Fn,G,I,Tk). Additional audience song translations available (Dn,N,Sw)
Scoring
Adult roles:2S,A,T,B; children's roles:4Tr,2S; audience participation
perc(1):timp/BD/SD/gong/cyms/tgl/cast/lg & sm wdbl-pft(4hands)-solo string quartet
(also arranged for piano duet)
This work can be performed with the introductory play 'Let's Make An Opera' - see separate entry
for details.
Abbreviations (PDF)
World Premiere
6/14/1949
Jubilee Hall, Aldeburgh
Basil Coleman and Stuart Burge, director
Conductor: Norman Del Mar
Company: English Opera Group
Roles
| | |
| --- | --- |
| BLACK BOB, a brutal sweep-master | Bass |
| CLEM, his son and assistant | Tenor |
| SAM, their new sweep boy, aged 8 | Treble |
| MISS BAGGOTT, the housekeeper at Iken Hall | Contralto |
| JULIET BROOK, aged 14 | Soprano |
| GAY BROOK, aged 13 | Treble |
| SOPHIE BROOK, aged 10 | Soprano |
| ROWAN, the nursery-maid to the Woodbridge cousins | Soprano |
| JONNY CROME, aged 15 | Treble |
| HUGHIE CROME, aged 8 | Treble |
| TINA CROME, aged 8 | Soprano |
| TOM, the coachman from Woodbridge | Bass |
| ALFRED, the gardener at Iken Hall | Tenor |
Time and Place
Children's Nursery of Iken Hall, 1810
Synopsis


The housekeeper Miss Baggott shows the sweepmaster Black Bob, his assistant Clem and the new sweepboy Sam where they must start. Black Bob and Clem send the tearful Sam up the chimney and leave him to it. But he gets stuck, and his cries are heard by the children of the house, Juliet, Gay and Sophie Brook, and their visiting friends John, Hugh and Tina Crome. Having rescued the filthy little boy from the chimney, they decide to rescue him from the sweep too. First they make it look as if Sam has run off, then they hide him from Miss Baggott and the returning sweeps. Afterwards, when the coast is clear, they let the Crome's kind-hearted nursery-maid Rowan into their secret, and together they wash, feed and clothe Sam and plot how to get him back home. The next morning Rowan and the children hide Sam in a trunk they are taking with them and smuggle him out of the house.
Repertoire Note
Two of the major preoccupations informing Britten's life and work, opera and music for children, come together in this 'Entertainment for Young People', the first part of which, Let's Make An Opera, consists of a play in which we see a group of children and adults write and rehearse an opera; the second part consisting of a performance of the finished opera itself. As such, the work can almost be seen as Britten's operatic counterpart to The Young Persons Guide to the Orchestra. Yet despite the light-hearted approach, The Little Sweep is also a morality tale in which Sam the sweep boy is sold into service and bullied by his elders in a manner reminiscent of Peter Grimes. Thus the work embodies a rounded and involving theatrical experience, introducing young audiences to the conventions of opera by means of a simple yet affecting story with which they can sympathise and identify. That Britten undoubtedly succeeded in his aim is demonstrated by the work's universal appeal and popularity.


Reproduced by kind permission of the Britten-Pears Library
Subjects
Ethics, History, Society
Recommended Recording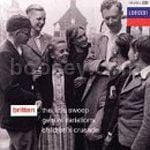 David Hemmings/Jennifer Vyvyan/Peter Pears/Nancy Evans/Alleyn's School Choir/English Opera Group/Benjamin Britten
Decca 436 3932