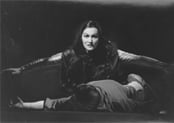 Photo: Ellinger
Salzburg, 1961, Paul Hager dir.
Wagner-Régeny, Rudolf
Das Bergwerk zu Falun (1958-60)
(The Mines of Falun)
Duration: 170 minutes
Opera
Libretto by the composer after Hugo von Hofmannsthal (G)
Scoring
3S,lyrS,M,2A,2T,Bar,5B,child's voice; small male chorus; 2.picc.2.2.2.dbn-3.2.3.0-timp.perc-harp-pft-accordion-harmonium-strings
Abbreviations (PDF)
World Premiere
20/08/1961
Salzburg
Paul Hager, director
Conductor: Heinz Wallberg
Company: Salzburg Festival

Roles
| | |
| --- | --- |
| ELIS FRÖBORN | Baritone |
| PEHRSON DAHLSJÖ | Bass |
| ANNA, his daughter | Lyric Soprano |
| THE GRANDMOTHER | Contralto |
| THE MOUNTAIN QUEEN | Mezzo Soprano |
| OLD TORBERN | Tenor |
| THE BOY AGMAHD | silent role |
| MRS JENSEN | Contralto |
| ILSEBILL | Soprano |
| REGINE | Soprano |
| KATHRINE | Soprano |
| PETER, KLAUS and PORTUGIESER, Seamen | Basses |
| THE OLD FISHERMAN | Bass |
| HIS WIFE | Contralto |
| HIS SON | Tenor |
| THE CHILD | child's voice |
| Wedding guests, miners | |
Time and Place
A solitary fishing village and the mountains of Falun in the 19th century
Synopsis
After the death of his father for which he feels partly responsible, the sailor Elis Fröborn abandons sea life. When, on his return home, he finds his mother dead, too, deep melancholy and weariness of life overcomes him. Elis feels drawn into the lap of the earth by mysterious powers. Old Torbern, a mystical figure between surface and underworld, shows him the realm of the mountain queen which Elis, however, is only allowed to enter when he has abandoned all signs of humanity. Elis becomes a miner at Falun where he lives in the house of the mine owner Dahlsjö and his daughter Anna. Anna falls in love with the strangely reserved guest who brings new life into the run-down firm. But when Dahlsjö hints to Elis that he would like to have him as his son-in-law, he flees from his feelings and hurries into the pit, breaking down in front of a mysterious door. Once again Elis tries to resist the pull, but on the day of his wedding with Anna the coldness towards life and people has seized him so strongly that the call of the mountain queen draws him forever to the deep.
Subjects
Magic/Mystery, Relationships
Email Newsletters
Sign up for news updates and offers via email
SIGN UP
ONLINE SCORES