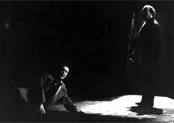 Photo: Boris B. Quednow
Bonn 1997, Gian-Carlo del Monaco dir.
Mascagni, Pietro
William Ratcliff (1882-89/93-94)
(Guglielmo Ratcliff)
Duration: 120 minutes
Opera in four acts
Libretto based on the poem of the same title by Heinrich Heine, translated by Andrea Maffei; German version by Emil Taubert (I,G)
Scoring
S,2M,5T,2Bar,4B; mixed chorus; 2.picc.2.corA.2.bcl.2.dbn-4.3.3.1-timp.perc(3):BD/cym/SD/tam-t/glsp/tgl-2harp-strings; on-stage: ob.2bn-hn.5trbn-perc:bells (This work is published and distributed for stage performances by Boosey & Hawkes / Bote & Bock in Germany, Austria, Hungary, the Czech Republic, Slovakia, Slovenia, Croatia, Bosnia and Herzegovina, Serbia, Montenegro and in German speaking Switzerland.)
Abbreviations (PDF)
Territory
This work is available from Boosey & Hawkes Bote & Bock for Germany, Austria, Hungary, the Czech Republic and Slovakia, Slovenia, Croatia, Bosnia-Herzegovina and Switzerland (German) .
World Premiere
16/02/1895
Teatro alla Scala, Milan
Bauda, director
Conductor: Pietro Mascagni
Company: Giovanni Battista De Negri (Ratcliff) / Adelina Stehle (Maria) / Giuseppe Pacini (Douglas) / Renée V

Roles
| | |
| --- | --- |
| MACGREGOR, a Scottish nobleman | Bass |
| MARIA, his daughter | Soprano |
| DOUGLAS, her bridegroom | Comic Baritone |
| GUGLIELMO RATCLIFF | Dramatic Tenor |
| LESLEY, his friend | Lyric Tenor |
| MARGHERITA, Maria's nurse | Mezzo-Soprano |
| TOM, owner of a thieves' cottage | Bass |
| WILLIE, his son | Mezzo-Soprano |
| Thieves: | |
| - ROBIN, | Bass |
| - DICK, | Tenor |
| - BELL, | Baritone |
| - JOHN and | Bass |
| - TADDIE | Tenor |
| A Servant | Tenor |
| Thieves, servants, wedding guests | |
Time and Place
Scotland around 1820
Synopsis
William Ratcliff was once engaged to Maria, MacGregor's daughter. When she rejected him, he vowed to kill all men who asked for her hand in marriage. One of those challenged to a duel by Ratcliff at their wedding day is Count Douglas, Maria's fiancé. When Douglas throws William to the ground during their fight, but recognising him to be the man who saved him from bandits shortly before on his way to the castle, he spares Ratcliff's life and hurries away. Ratcliff, unimpressed with his friend's magnanimity, decides to abduct Maria. Maria learns from her nurse that her father and Ratcliff's father Edward had been enemies because both of them were in love with the same woman, Maria's mother Eliza. As a result, Edward was killed by MacGregor. Bleeding from the wound inflicted by Douglas, William pushes his way into Maria's sleeping room, only to be rejected again, although Maria feels strong pity for him. He then stabs her and her father, who rushes into the room, before taking his own life.
Subjects
Relationships, Society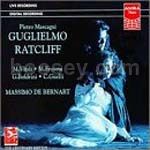 Email Newsletters
Sign up for news updates and offers via email
SIGN UP
ONLINE SCORES