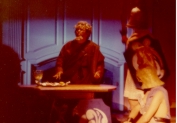 Photo: Dr. Nathaniel S. Lehrman
Boston Premiere, Dec. 5, 1970. Conducted by Leonard S. Lehrman.
Blitzstein, Marc
The Harpies (1930)
Duration: 16 minutes
Opera in one act
Libretto by the composer (E)
Scoring
2S,dramS(or M),M,2T,2Bar
1(=picc).0.1(=Ebcl).1-1.1.1.0-pft-db
Abbreviations (PDF)
World Premiere
5/25/1953
New York, NY
Conductor: Hugh Ross
Company: Manhattan School of Music Opera Workshop
Roles
| | |
| --- | --- |
| PHINNEUS, a blind, old oracle | Tenor |
| AELLO, a Harpie | Soprano |
| OCYPETE, a Harpie | Mezzo-soprano |
| CELANEO, a Harpie | Contralto |
| ZETES, an Argonaut | Tenor |
| CALAIS, Argonaut | Baritone |
| JASON, an Argonaut | Bass |
| IRIS, a Messenger | Soprano |
Time and Place
Greek times, the terrace of Phineus's villa
Synopsis
This operatic spoof of Greek mythology - and of musical neo-classicism - is also intended as a Depression-era allegory. Set in ancient Thrace, the work has eight characters, balanced between tenor and soprano principals, a group of three female Harpies, and three male Argonauts. At the center is Phineus, a sightless oracle, who attempts to enjoy his dinner but is constantly attacked by the Harpies. Not only do they steal his food, they emit a foul odour as well. Jason appears on the scene with the Argonauts, and he promises to fight off the Harpies if Phineus will guarantee that the gods will continue to favor them. As soon as the Harpies are defeated Iris appears as a messenger of the gods. She promises Phineus that he will always be safe from the Harpies, and she dispatches them to experience various tortures. The prophet can now eat his meal in peace.
Subjects
Mythology, Society
Recommended Recording