Fleischmann - Shostakovich
Rothschild's Violin (1939-41, arr.1944)
Duration: 42 minutes
Opera in one act by Veniamin Fleischmann, completed and partly orchestrated by Shostakovich
Libretto after the story by Anton Chekhov (R)
Scoring
B,2T,M; male chorus of 6-8 voices 3(III=picc).2.corA.2.Ebcl.2.dbn-4.3.3.1-timp.perc:tgl/tamb/SD/cyms/BD/glsp-harp-strings This work is represented by Boosey & Hawkes in the UK, British Commonwealth (excluding Canada), Republic of Ireland, mainland China, Korea and Taiwan
Abbreviations (PDF)
Territory
This work is available from Boosey & Hawkes for the UK, countries of the Commonwealth (excluding Canada) and the Republic of Ireland.
World Premiere
20/06/1960
USSR Union of Composers, Moscow
Company: Soloists and members of the Moscow Philharmonic Society

Roles
| | |
| --- | --- |
| IAKOV MATVEIEVICH IVANOV (nicknamed Bronze), coffin-maker and violinist | Baritone |
| ROTHSCHILD, flautist then violinist | Tenor |
| MOSES ILYICH CHAKHKES, gravedigger | Tenor |
| MARFA, Ivanov's Wife | Mezzo Soprano |
Time and Place
A small town somewhere in Russia.
Synopsis
There is a wedding in a merchant's house. A band of local musicians are playing in the street, but a quarrel breaks out between them. The old coffin-maker, Ivanov (known as 'Bronza'), accuses the young Rothschild of spoiling the music. But the others turn against him and eventually, in disgust, Bronza packs his violin and goes home. Alone, Bronza laments his poverty and the lack of respect that others show him. His wife Marfa returns from the river with a bucket of water and collapses from exhaustion. While the remaining musicians go into the merchant's house, Rothschild stays in the street outside, playing his flute. Marta, lying in bed, reminds Bronza of their little fair-haired daughter who died fifty years ago while still a child. Bronza knows he will have to make a coffin for his wife this day. The musicians reappear and strike up a lively dance. They send Rothschild to persuade Bronza to come and join them, but Bronza throws Rothschild out of his house. Children in the street chase after the young musician, shouting: 'Jew! Jew!' In a long monologue, Bronza grieves for the waste of his life, for the destruction of the former woods around the town, and for his own mistreatment of his wife and of Rothschild. Staring at his violin, he hopes that after his death it will 'sing new songs of happiness', for he cannot take it with him to his grave. Rothschild returns once again to implore Bronza to come and join the musicians. Instead the old Russian coffin-maker gives him his violin and the young Jewish man begins to play.
Repertoire Note
Completion and orchestration of unfinished one-act opera by Shostakovich's pupil, Veniamin Fleishman, who was killed on active service in September 1941 during the siege of Leningrad. Libretto by Fleishman based on the story by Anton Chekhov.
Just before the outbreak of World War ll, Shostakovich's pupil Veniamin Fleishman began a one-act opera based on Chekhov's short story about Bronza, a Russian country coffin-maker and violinist, and his combative relationship with the Jewish musicians in his village.
Fleishman was killed before he could complete the work. In memory of his talented student, Shostakovich rescued the manuscript from besieged Leningrad, finished it and orchestrated it. The result is a lyrical and haunting score, which tells a most touching story and abounds in the kind of bitter-sweet Jewish wedding tunes that Shostakovich himself loved and which surface in some of his most famous works including the 2nd Piano Trio, the 2nd Violin Concerto and the song-cycle 'From Jewish Folk Poetry'.
Although for a long time this opera remained unperformed, in recent years it has received the occasional staging, concert performance and recording and has even been turned into a film. In its poignant simplicity and moments of true grandeur, this work is a remarkable collaboration between pupil and teacher.
Note by Gerard McBurney
Subjects
Literary, Music/Arts, Relationships, Society
Recommended Recording
Sergei Leiferkus, Konstantin Pluzhnikov, Ilya Levinsky, Marina Shaguch, Rotterdam Philharmonic Orchestra, Gennadi Rozhdestvensky
RCA Red Seal 09026 68434-2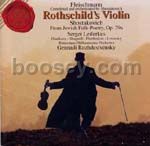 Email Newsletters
Sign up for news updates and offers via email
SIGN UP
ONLINE SCORES