Fleischmann - Shostakovich
Rothschild's Violin (1939-41, arr.1944)
Duration: 42 minutes
Opera in one act by Veniamin Fleischmann, completed and partly orchestrated by Shostakovich
Libretto after the story by Anton Chekhov (R)
Scoring
B,2T,M; male chorus of 6-8 voices 3(III=picc).2.corA.2.Ebcl.2.dbn-4.3.3.1-timp.perc:tgl/tamb/SD/cyms/BD/glsp-harp-strings This work is represented by Boosey & Hawkes in the UK, British Commonwealth (excluding Canada), Republic of Ireland, mainland China, Korea and Taiwan
Abbreviations (PDF)
Territory
This work is available from Boosey & Hawkes for the UK, countries of the Commonwealth (excluding Canada) and the Republic of Ireland.
World Premiere
20/06/1960
USSR Union of Composers, Moscow
Company: Soloists and members of the Moscow Philharmonic Society
Repertoire Note
Completion and orchestration of unfinished one-act opera by Shostakovich's pupil, Veniamin Fleishman, who was killed on active service in September 1941 during the siege of Leningrad. Libretto by Fleishman based on the story by Anton Chekhov.
Just before the outbreak of World War ll, Shostakovich's pupil Veniamin Fleishman began a one-act opera based on Chekhov's short story about Bronza, a Russian country coffin-maker and violinist, and his combative relationship with the Jewish musicians in his village.
Fleishman was killed before he could complete the work. In memory of his talented student, Shostakovich rescued the manuscript from besieged Leningrad, finished it and orchestrated it. The result is a lyrical and haunting score, which tells a most touching story and abounds in the kind of bitter-sweet Jewish wedding tunes that Shostakovich himself loved and which surface in some of his most famous works including the 2nd Piano Trio, the 2nd Violin Concerto and the song-cycle 'From Jewish Folk Poetry'.
Although for a long time this opera remained unperformed, in recent years it has received the occasional staging, concert performance and recording and has even been turned into a film. In its poignant simplicity and moments of true grandeur, this work is a remarkable collaboration between pupil and teacher.
Note by Gerard McBurney
Moods
Poetic
Subjects
Relationships, Society, Literary, Music/Arts
Recommended Recording
Sergei Leiferkus, Konstantin Pluzhnikov, Ilya Levinsky, Marina Shaguch, Rotterdam Philharmonic Orchestra, Gennadi Rozhdestvensky
RCA Red Seal 09026 68434-2
Click here to purchase this CD from Amazon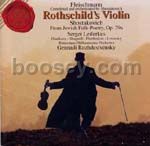 Mailing List
Sign up for news updates and offers via email
SIGN UP
ONLINE SCORES