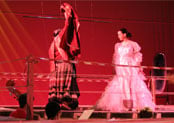 Photo: Elmar Szücs
Ramallah 2009 (WP), François Abu Salem, dir.
Arriaga - Brüning
Die arabische Prinzessin, oder Das wiedergeschenkte Leben (2008)
(La Princesa árabe/The Arabian Princess)
Duration: 90 minutes
Fairytale opera in two acts based on music by Juan Crisóstomo de Arriaga, concept and musical adaptation by Anna-Sophie Brüning
Libretto by Paula Fünfeck, based on an Arabian tale; Arabic version by Mohamad Abu Zeid; Spanish version by Pablo Valdes; French version by Dominique Caillat & Catherine Fourcassié (G,Arab,S,F)
Scoring
S,T,child singer,3speakers; children's chorus; 2(II=picc).2.2.2-2.2.3.0-timp-strings; on-stage (ad lib. or from orchestra): 1.picc.2.2.2-2.2.1.0-perc:tgl/SD/BD with cym; alternative instrumentation for 9 players: 0.1.1.1-1.0.0.0-2vln.vla.vlc.db
Abbreviations (PDF)
Territory
This work is available from Boosey & Hawkes for the world.
World Premiere
14/07/2009
Cultural Palace, Ramallah
François Abou Salem & Paula Fünfeck, director
Conductor: Anna-Sophie Brüning
Company: Youth Orchestra of the Barenboim-Said Foundation / Children's choirs from Ramallah and vicinity

Roles
| | |
| --- | --- |
| AMIRAH, a princess | Soprano |
| JAMIL, a fish vendor | Tenor |
| SAFAH, Amirah's favourite maidservant | Soprano (child singer) |
| The Grandmother | spoken role (mayb e doubled with Safah) |
| The Stranger / Shimmering Prince of Oblivion | spoken role (doubling role) |
| The Child | spoken role |
| Two Party Guests | small spoken roles |
| 'Sea ballet' of fish, sea monsters and seagulls | mimes (small children) |
| The Prince's court | mimes |
| Maidservants, fishermen/fish vendors, street children, wedding guests and courtiers | chorus |
Synopsis
The son of a poor fisherman has no desire to learn anything, irritating all his teachers. However, he is so handsome, and his voice so lovely, that he captures the heart of a princess despite his humble background. The cries with which he praises his roach, herring, and tuna tails sound a thousand and one times more beautiful than the court singer's most splendid sobs. And whoever happens to listen, also wants to see. The princess sees the fisherman, prompting the strongest feelings. The absolute elegance of the simple gestures with which he plies his modest trade without a trace of vanity fills the princess's heart with yearning. And she resolves, cost what it may, to make this lad into a prince, and to take him as her husband. However, not everything lets itself be taken as easily as a piece of 'halawa'. Great adventures and many painful learning processes are in store for the two lovers before they ultimately find their way to one another.
Paula Fünfeck
Repertoire Note
For the Barenboim-Said Foundation's first opera project we decided to commission a libretto, but not a new composition'with only a year to prepare, time would have been too short. We therefore took recourse to already existing music by the Spanish composer J. C. de Arriaga (1806–1826) and put together an opera pasticcio from several of his works. To this we added traditional Arabic music, played by musicians from the region. The music of Arriaga, who died at the age of nineteen and is often referred to as the 'Spanish Mozart,' is held in high regard particularly by string players, owing to his superb string quartets. Less known is his symphony, and completely unknown are his vocal scenes, chorale pieces, and small occasional compositions that until recently existed only in the original manuscripts and which we arranged for this opera with the generous support of the Fundación Vizcaina Aguirre. Arriaga's music is eminently suitable for this project. It is—like Mozart's—directly accessible and easily comprehensible for young people and adults alike, yet at the same time of the highest quality. Moreover, Arriaga lends our piece the so very important Spanish element. Even though the music comes from a later epoch, it symbolizes the land in which until the end of the fifteenth century the three monotheistic civilizations coexisted peacefully and in dialogue with one another. A dialogue that is largely missing today more than ever before.
Anna-Sophie Brüning

(The work was first performed under the title Die Sultana von Cádiz / The Sultana of Cadiz.)
Subjects
Magic/Mystery, Relationships
Email Newsletters
Sign up for news updates and offers via email
SIGN UP
ONLINE SCORES