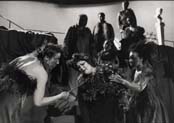 Photo: Almeida Opera / Ivan Kyncl
Almeida Opera, 1994, Caroline Gawn, dir
Firsova, Elena
The Nightingale and the Rose (1990-91)
Duration: 90 minutes
Chamber opera in one act
Libretto by the composer after Oscar Wilde and Christina Rossetti (E)
Scoring
Major roles: S,M,T; minor roles from chamber chorus: 2S,2A,2T,2B 1(=picc).1.1.1-1.1.1.0-perc(3):tgl/indian jingles/pagoda jingles/BD/ bamboo pipes/maracas/whip/susp.cym/Chin.gong/Javanese gong/tam-t/xyl/ glsp/vib/t.bells-harp-cel-strings(1.1.1.1.1) This work is represented by Boosey & Hawkes in the UK, British Commonwealth (excluding Canada) and the Republic of Ireland
Abbreviations (PDF)
Territory
This work is available from Boosey & Hawkes for the UK, countries of the Commonwealth (excluding Canada) and the Republic of Ireland.
World Premiere
08/07/1994
Almeida Theatre, London
Julian McGowan, des / Caroline Gawn, dir
Conductor: David Parry
Company: Rachael Hallawell, Philip Sheffield, Carol Smith

Roles
| | |
| --- | --- |
| THE NIGHTINGALE | Soprano |
| THE STUDENT | Tenor |
| THE GIRL | Mezzo Soprano |
| GREEN LIZARD | Mezzo Soprano (from chorus) |
| BUTTERFLY | Tenor (from chorus) |
| DAISY | Bass (from chorus) |
| WHITE ROSE TREE | Chorus (2S,2A) |
| YELLOW ROSE TREE | Chorus (2T,2B) |
| RED ROSE TREE | Chorus (2S,2A,2T,2B) |
| OAK TREE | Bass (from chorus) |
Synopsis
A young student is told by the girl he loves that she will dance with him all night if only he will bring her a red rose. But he cannot find such a rose in the garden. The nightingale hears his complaints and is so moved that she decides to find a red rose for him herself. Unfortunately the first two rose-trees she asks produce white and yellow roses. Only the third tree, which grows beneath the student's window, produces red roses. But this tree has been chilled by the winter frosts and the nightingale learns that she will only obtain her red-rose if she sings to it all night long, pressing her heart against one of its thorns and spilling her warm blood over its cold branches. She must give her life for this red rose. The student understands nothing of this. Hearing the nightingale's song in the garden, he thinks it something meaningless and of no practical use. So the nightingale, impaled on a thorn of the rose-tree, sings all night long beneath the student's window. And at dawn she dies and her body falls into the long grass. And the student looks out and sees to his delight a red rose, which he immediately plucks and takes to the girl he loves.
But the girl is quite unimpressed, declaring that the rose will not go with her dress and, anyway, she prefers the jewels given to her by the Chamberlain's nephew. So the student, disillusioned and impatient, hurls the red rose beneath the wheels of a passing carriage and returns to his books.
Subjects
Literary, Magic/Mystery, Relationships
Email Newsletters
Sign up for news updates and offers via email
SIGN UP
ONLINE SCORES