Deutsch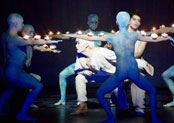 Photo: Annemone Taake
WP Heidelberg 2016, Johann Kresnik dir.
Kalitzke, Johannes
Pym (2014)
Duration: 100 minutes
Opera
Libretto by Christoph Klimke based on the novel "The Narrative of Arthur Gordon Pym of Nantucket" by Edgar Allan Poe, with original texts by Walter Benjamin and Fernando Pessoa (G)
Scoring
CT,4T,2B,2Bar; additional vocal quartet (SATB); 2(I=picc,rec;II=bfl,afl,rec).1.corA.1(=Ebcl,Ccl).bcl(=dbcl).1.dbn–2.1.1.1–perc(3)–2harp-pft(=cel,harmonium)-sampler–strings.
Abbreviations (PDF).
Territory
This work is available from Boosey & Hawkes for the world.
World Premiere
18/02/2016
Theater, Marguerre-Saal, Heidelberg
Johann Kresnik, director
Conductor: Elias Grandy
Company: Theater der Stadt Heidelberg
Roles

| | |
| --- | --- |
| PYM | Counter-tenor |
| AUGUSTUS | Tenor |
| Mr BARNARD | Bass |
| PETERS | Baritone |
| Cook | Tenor |
| Mate | Baritone |
| RICHARD PARKER | Bass |
| GUY | Tenor |
| the White Figure | Tenor |
| Vocal ensemble SATB (also solistically) | |
Synopsis
Pym travels as a stowaway in a black crate in the hold of the ship "Grampus." Only his friend Augustus, the son of Captain Barnard, knows of his presence. A mutiny rocks the ship: with a wild slaughter, the crew seizes power and sets the captain adrift in a small boat to face certain death.

Augustus and Pym cling to their dreams: Augustus will explore the external world; Pym will explore the inner world of his soul through the encounter with the external world.

In order to bring the Grampus under their control again, they make use of Pym's unrecognized presence. Together with their accomplice Peters, they scare the mutineers with Pym dressed up as one of the dead, overpowering and killing all of them except for Parker.

A storm destroys the ship; the castaways drift on a plank over the ocean. While the moribund, wounded Augustus hallucinates in fever, hunger drives the men to cannibalism. Lots are drawn to decide who is to serve as the meal for the others: Parker is chosen. A ship in the distance arouses hope, which is just as quickly dashed: manned only by corpses, it drifts around just as spookily and aimlessly as they themselves.

Augustus dies.

Space and time seem to dissipate in the expanses of the ocean. Pym seeks stability in his memories.

Rescue arrives in the form of the ship "Jane Guy," which takes up Pym and Peters. Captain Guy wants to get rich by exploiting the "savages" of the South Pacific islands. A strange animal with scarlet claws and teeth prophesies danger for Pym, and discoveries and conquests of exotic lands for Peters and the captain.

They are warmly welcomed on land by the natives, but then led into an ambush: in a narrow canyon, the natives blow up the cliffs; only Pym and Peters survive in a cave in which they come across strange inscriptions. Helplessly, they watch the islanders plunder the Jane Guy and kill the rest of the crew. Dragging along a hostage, Pym and Peters flee onto the ocean in a canoe and escape.

They travel further and further to the south. The hostage dies; the ocean becomes increasingly warm; the ice melts, white ashes rain down; an ocean current pulls them inexorably into a wall of light. A white figure throws Pym back upon himself. The goal of his longing, which urges him on and on, lies within himself: in his childhood.
Theater Heidelberg
Moods
Dramatic
Subjects
Environment, Literary
Mailing List
Sign up for news updates and offers via email
SIGN UP
ONLINE SCORES