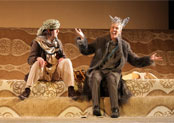 Photo: Bettina Stöß
WP Berlin 2012, Matthias Davids dir.
Akyol, Taner
Ali Baba und die vierzig Räuber (2011-12)
(Ali Baba and the Forty Thieves)
Duration: 100 minutes
Opera for children in two acts (seven scenes)
Libretto von Çetin Ipekkaya und Marietta Rohrer-Ipekkaya (dt.-türk.)
Scoring
2S,colS,M,2T,2Bar,3B; chorus; children's chorus; dance group;
2(II=picc).2(II=corA).2(II=bcl).2(II=dbn)-2.2.2.0-timp.perc-marimba-harp-pft-kaval-zurna-baglama-strings
Abbreviations (PDF)
Uraufführung
10/28/2012
Komische Oper, Berlin
Matthias Davids, Regisseur
Conductor: Kristiina Poska
Company: Komische Oper Berlin
Roles
| | |
| --- | --- |
| ALI BABA | Baß |
| ROSA, Ali Babas Frau | Sopran |
| VEHBI, Ali Babas und Rosas Sohn | Tenor |
| KARAKAÇAN, Ali Babas treuer Esel | türkischer Sängerdarsteller (Tenorlage) |
| KASIM, Ali Babas großer Bruder | Bariton |
| AYSE, Kasims Frau | Mezzosopran |
| SIRIN, Sklavin im Hause von Kasim | Koloratursopran |
| RÄUBERHAUPTMANN | Baß |
| PAZARBASI, Chef des Basars | Baß |
| MEISTER IDRIS, Schneider | Bariton |
| TOMTOM OSMAN, ein etwas dümmlicher Räuber | Sopran |
| Verkäufer, Käufer, Händler, Träger, Wasserverkäufer, | |
| Bewohner der Kleinstadt, 5 Diener Kasims, Kaffeehausbesitzer, | |
| Kaffeehauslehrling, Simitci (Sesamringverkäufer) | aus dem Chor |
| 40 Räuber | aus dem Kinderchor |
| Kinder auf dem Basar und in der Kleinstadt | |
| Tanzgruppe | |
| Musiker beim Fest | aus dem Orchester |
Time and Place
Basar; Wald und Höhle; in Kasims Haus; Kleinstadtplatz
Synopsis
Ali Baba, ein armer, aber rechtschaffener Tagelöhner, lebt neben seinem gar nicht so rechtschaffenen, dafür aber umso reicheren Bruder Kasim. Als Ali Baba eines Tages die Höhle der 40 Räuber entdeckt und, aus seinem Versteck heraus, die magischen Worte "Acil susam acil!" ("Sesam öffne dich!") vernimmt, wartet er geschickt, bis die Räuber nicht mehr in der Nähe sind. Dann bepackt er kurzerhand seinen treuen Esel Karakacan mit einem Teil der Schätze und kehrt zu seiner Familie zurück - nicht ohne den Entschluss gefasst zu haben, nie wieder zur Höhle zurück zu kehren. Sein Bruder Kasim ist leider nicht so weise: Er bemerkt das Gold, das Ali Baba versteckt, presst ihm das Geheimnis um die Höhle ab und macht sich, mit einem ganzen Wagen ausgestattet, selbst auf den Weg. Der Anblick all der Schätze verschlägt Kasim den Atem. Vor lauter Pracht vergisst er die so wichtigen Worte, langsam schließt sich hinter ihm der Eingang zur Höhle - Kasim ist gefangen. Als die Räuber heimkehren, hat sein Stündlein geschlagen.

In der Zwischenzeit bricht Ali Baba in Sorge um seinen nicht zurückkehrenden Bruder mit Karakacan auf. In der Schatzhöhle finden sie Kasims viergeteilten Leichnam, den die Räuber an den Wänden aufgehängt haben. Behutsam sammelt Ali Baba die Leichenteile zusammen, um seinen Bruder beerdigen zu können. Unerwartet kehren die Räuber zurück. Ali Baba und Karakacan verstecken sich – im Publikum! Doch zu spät: Die Räuber entdecken ihn und seinen Esel, und mit Gebrüll geht die rasante Jagd hinaus ins Foyer ...
Ali Baba und Karakacan können entkommen. Aber wie soll man der Familie den viergeteilten Körper Kasims erklären? Die kluge Sirin, die Freundin von Ali Babas Sohn, kommt auf die gute Idee, den Schneider um Hilfe zu bitten. Verkleidet als Mann, bringt sie Meister Idris, dem sie zuvor die Augen verbunden hat, zu Ali Babas Haus. Er näht die Teile wieder zusammen, und am nächsten Tag kann die Familie den Leichnam zur Moschee bringen. Doch die Räuber sind in der Stadt. So schnell geben sie die Suche nach Ali Baba nicht auf ...
Press Quotes
"Die Geschichte aus '1001 Nacht' wird sinnfällig ... Taner Akyols Musik verwebt neutönerische Klänge mit orientalischen Traditionen. Das Orchester entwickelt einen akustischen Teppich, in dem es ebenso wimmelt wie auf der Bühne. Es klopft und brummt und wummert unablässig. Mit suggestiver Kraft werden die zentralen Szenen markiert. Türkisch und deutsch wird im Wechsel gesungen." (Christoph Schmitz, Deutschlandfunk, Kultur heute, 22.12.2012)

"Die Musik des in Berlin lebenden Komponisten Taner Akyol ist farbenreich, temperamentvoll und ungeheuer spannend ... Effektvoll baut Akyol Folkloreelemente ein, ohne verstaubte Klischees zu bemühen. Sattdessen gelingt ihm eine abwechslungsreiche Musik auf der Höhe der Zeit. Die Kids im Publikum verfolgten das mit Pause über zweistündige Bühnengeschehen mit Gekicher und waren gespannt wie die Flitzebogen. Am Ende begeisterter Applaus und glückliche Gesichter. Die strengsten Kritiker der Welt haben ihr Urteil abgegeben. Aber auch Erwachsene amüsieren sich bei der flotten Produktion prächtig. So geht Kinderoper!" (Eckhard Weber, Siegessäule.de, 29.10.2012)

"Opulent die Musik so sehr wie die Bühne ... Ali Baba und die 40 Räuber aus '1001 Nacht' als Oper bietet die Geschichte handfest, ohne viel Federlesen ... Modern durchaus Taner Akyols Partitur. Kindlichen Ansprüchen genügt sie und strebt darüber hinaus, will also auch Neugier auf unbekannte Klänge wecken. Stark präsent ist percussives Material - immer mal wieder kracht Trommelschlag in die Szenerie -, einhergehend mit seriellen Optionen und Gebrauchsweisen heimatlicher Idiome. Wenn Letztere auftreten, dann geht es rasant-volkstümlich zu auf der Bühne ... Die Anwesenden, so schien es, hatten ihre helle Freude." (Stefan Amzoll, Neues Deutschland, 07.11.2012)
Subjects
Beziehungen, Literatur, Zauberei/Geheimnis
Recommended Recording