Deutsch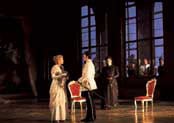 Photo: Bill Rafferty
English National Opera
Strauss, Richard
Der Rosenkavalier (1909-10)
(The Knight of the Rose)
Duration: 200 minutes
Comedy for music in three acts
Libretto by Hugo von Hofmannsthal (G,Cz,E,F,I,R)
Scoring
Major roles: dramS,lyrcolS,dramM,charB,B; minor roles: S,A,T; small roles: 2S,M,A,8T,Bar,6B,mimes; small chorus 3(III=picc).3(III=corA).3(I=Ccl,II=Ccl,III=Dcl,Ebcl).bcl(=bhn). 3(III=dbn)-4.3.3.1-timp.perc(3):tgl/t.bells/cast/cyms/tamb/t.mil/SD/ BD/glsp/bells/sleigh bells/ratchet-cel-pft-2harp- strings(16.16.12.10.8 reduced where necessary)Off-stage orchestra: 2. 1.1.Ebcl.2-2.1.0.0-perc:SD-pft-harm- strings(1.1.1.1.1 doubl ed if necessary).
Abbreviations (PDF).
Territory
This work is available from Boosey & Hawkes for all countries except Germany, Italy, Portugal, Danzig, and the former territories of the USSR.
World Premiere
26/01/1911
Hofoper, Dresden
Conductor: Ernst von Schuch
Company: Dresden Hofoper
Roles

| | |
| --- | --- |
| FELDMARSCHALLIN, PRINCESS VON WERDENBERG | Soprano |
| OCTAVIAN, COUNT ROFRANO | Soprano |
| BARON OCHS VON LERCHENAU | Bass |
| HERR VON FANINAL, a wealthy parvenu | Baritone |
| SOPHIE, his daughter | Soprano |
| MARIANNE LEITMETZERIN, her duenna | Soprano |
| VALZACCHI, an Italian intriguer | Tenor |
| ANNINA, his partner | Contralto |
| POLICE COMMISSIONER | Bass |
| MARSCHALLIN'S MAJOR-DOMO (STRUHAN) | Tenor |
| FANINAL'S MAJOR-DOMO | Tenor |
| NOTARY | Bass |
| INNKEEPER | Tenor |
| ITALIAN SINGER | Tenor |
| 3 Noble Orphans | Soprano/Mezzo/Alto |
| DRESSMAKER | Soprano |
| 4 Marschallin's footmen | 2 Tenors, 2 Basses |
| 4 waiters | Tenor, 3 Basses |
| MAHOMET | mime |
| Scholar flautist, hairdresser, hairdresser's assistant, widow of noble family | silent roles |
| Footmen, couriers, heyducks, cookboys, guests, musicians, 2 watchmen, | chorus |
Time and Place
Vienna in the reign of Empress Maria Theresa
Synopsis
After a night of passion the Marschallin prepares to say farewell to her young lover Octavian. Noises are heard outside the bedroom: it is not her husband but her cousin Baron Ochs. Octavian, disguised as a chambermaid Mariandel, escapes but not before catching the Baron's eye. Ochs plans to marry the daughter of Faninal, a recently ennobled financeer. He asks the Marschallin to recommend a young nobleman to present the traditional silver rose of betrothal and she suggests Octavian. The Marschallin opens her room to petitioners, tradesfolk and Ochs's unsavoury retinue. Left alone, she remembers her own loveless betrothement. Octavian returns and she explains that in time he will leave her for a younger lover. Wounded, he rushes away. Sophie is presented with the rose by Octavian and they are immediately attracted to each other. Faninal presents Ochs and she is horrified by his boorish behaviour. She begs Octavian to save her but their intimacy is observed by two Italian intriguers in the Baron's employ. Ochs fights a duel with Octavian and is slightly wounded. Octavian is dismissed and enlists the intriguers to deliver an invitation to Ochs for an assignation with Mariandel. Ochs attempts to seduce Mariandel at an inn but they are interrupted by strange apparitions and someone claiming to be his wife. The police are summoned to quell the uproar, witnessed by Faninal and Sophie. The Marschallin arrives and calms the scandalous mood, telling Ochs his suit is over. When Ochs learns that Octavian and Mariandel are the same and that the Marschallin herself is implicated in the deception he leaves, chased by creditors. The Marschallin, recognising that Octavian and Sophie are already in love, reconciles Faninal to bless the match.
Moods
Comic, Romantic
Subjects
History, Relationships, Society, Literary
Recommended Recording
Franz Bierbach, Otto Edelmann, Anny Felbermayer, Karl Friedrich, Nicolai Gedda, Paul Kuen, Christa Ludwig, Erich Majkut, Kerstin Meyer, Harald Pröglhöf, Elisabeth Schwarzkopf, Teresa Stich-Randall, Gerhard Unger, Ljuba Welitsch, Eberhard Wächter, Philharmonia Chorus, Loughton Girls School Chorus, Philharmonia Orchestra, Herbert von Karajan
EMI 5676052
Click here to purchase this CD set from Amazon
Régine Crespin, Yvonne Minton, Manfred Jungwirth, Helen Donath, Otto Wiener, Luciano Pavarotti, Anne Howells, Murray Dickie, Emmy Loose, Rosl Schwaiger, Alfred Jerger, Herbert Lackner, Herbert Prikopa, Kurt Equiluz, Anton Dermota, Arleen Auger, Rohangiz Yachmi-Caucig, Ingrid Mayr, Karl Terkal, Hans Pipal, Adolf Tomaschek, Alexander Maly, Leo Heppe, Adolf Tomaschek, Franz Setzer, Friedrich Strack, Nikolaus Simkowsky, Johann Reautschnigg, Vienna State Opera Chorus, Vienna Philharmonic Orchestra, Sir Georg Solti
Decca 4174932
Click here to purchase this CD set from Amazon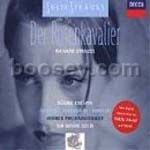 Mailing List
Sign up for news updates and offers via email
SIGN UP
ONLINE SCORES