MUSIC DOWNLOADS
BUILD A CLASSICAL MUSIC COLLECTION
Heard something you like on Boosey Radio? You can buy it on the spot and start building an original collection of music that is unique to you. Most downloads are just £1 (or 99 cents in the US), depending on the playing time, and there are no restrictions so you can also burn your favourites onto a CD. Our shop also stocks CDs and books.
GO
With Boosey Radio, you get to steer the mood and content of what is playing. It really is the best way to explore and discover classical music. Being an online-only station, you can go where you want and download what you want at any time. Even better, there is no advertising and no talk, except where you want to listen to a podcast. And of course it is very easy to use.
Do not show this page again
CDs AND BOOKS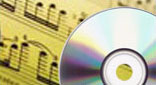 We sell great value CDs and books, so if you want to discover more about classical music...
START SHOPPING
FLOAT YOUR RADIO
When you've found the station and mood you want, try clicking on "Float Your Radio." The surrounding page will disappear, leaving you just the radio itself - so you can get on with whatever else you are doing whilst still listening to great music. You can go back to the full page at any time with a single click.

Go to Boosey Radio and click "Float Radio" to try it now.