Reich, Steve
:
Three Tales
(2001) 60'
Part I: Hindenburg/Part II: Bikini/Part III: Dolly. Video by Beryl Korot.
Music Text
English
Orchesterbesetzung
vocal quintet: 2S,3T perc(4):2vib/2SD/2pedal kick dr/susp.cym/lg gong-2pft-string quartet-pre-recorded tape Akai 24 track hard disk unit or DA-88 tape playback and high-quality video projection equipment required .
Abkürzungsverzeichnis
(PDF).
Vertriebsgebiet
Dieses Werk ist erhältlich bei Boosey & Hawkes für Aufführungen in der ganzen Welt.

For full details on this stagework, including synopsis and roles, please visit our
Opera
section.
World Premiere
5/12/2002
Museumsquartier, Vienna
Beryl Korot, video / Ensemble Modern / Synergy Vocals / Bradley Lubman
Empfohlene Aufnahme
Beryl Korot, video / Steve Reich Ensemble / Synergy Vocals / Bradley Lubman
Nonesuch 7559 79835-2 (CD+DVD)
Buy this CD/DVD from our Online Shop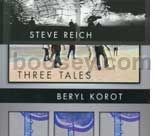 Komponist im Porträt