Cumming, Richard
:
The Picnic
(1975)
100'
Opera in two acts
Orchesterbesetzung
S,M,A,2T,Bar,B 1.1.1.1-1.1.0.0-timp.perc(2):glsp/xyl/SD/BD/wdbl/tamb/cym/tam-t/ tgl/ratchet/whip-cel(=pft)-harp-strings(1.1.1.1.1)
Abkürzungsverzeichnis (PDF)
Vertriebsgebiet
Dieses Werk ist erhältlich bei Boosey & Hawkes für Aufführungen in der ganzen Welt.


For full details on this stagework, including synopsis and roles, please visit our Opera section.
World Premiere
22/11/1985
New York, New York
Reiman Opera Studio of New York University

Komponist im Porträt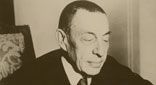 Sergei Rachmaninoff
Zu den wichtigsten Werken dieses beliebten russischen Komponisten zählen das Klavierkonzert Nr.2, die Symphonischen Tänze und die Paganini-Rhapsodie.
LESEN SIE MEHR