Spohr, Louis
:
Concerto in B minor for two violins and orchestra
(1833) 25'
Gattung:
double concerto ie two solo instruments and orchestra
Orchesterbesetzung
2.0.2.2-4.0.0.0-strings.
Abkürzungsverzeichnis
(PDF).
Vertriebsgebiet
Dieses Werk ist erhältlich bei Boosey & Hawkes für Aufführungen in for the world.
Komponist im Porträt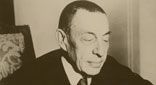 Sergei Rachmaninoff
Zu den wichtigsten Werken dieses beliebten russischen Komponisten zählen das Klavierkonzert Nr.2, die Symphonischen Tänze und die Paganini-Rhapsodie.
LESEN SIE MEHR