Christopher Norton Explains the Secrets of Microjazz
(March 2010)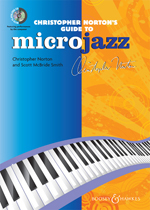 Now available, Christopher Norton's Guide to Microjazz gives a unique insight into his music and how best to teach it, in partnership with piano pedagogue Scott McBride Smith. Norton has been workshopping his compositions throughout Europe, the USA and SE Asia for many years, and here shares this experience, demonstrating the art of learning and teaching these ever-popular pieces.

In a simple step-by-step approach, this book covers the aspects of piano technique required for authentic and stylish performances of the many popular styles covered in the Microjazz repertoire.
> Weitere Informationen zu Christopher Norton's Guide to Microjazz
> Nachrichtensuche
Komponist im Porträt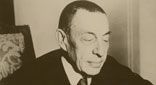 Sergei Rachmaninoff
Zu den wichtigsten Werken dieses beliebten russischen Komponisten zählen das Klavierkonzert Nr.2, die Symphonischen Tänze und die Paganini-Rhapsodie.
LESEN SIE MEHR