Madog and Chums!: Two New Titles by Karl Jenkins
(June 2010)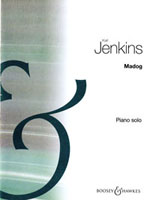 Madog for piano solo is an exciting new concert piece to be played strictly 'Moto perpetuo'! Dedicated to Llyr Williams.

Chums! for wind quintet was commissioned by Camarilla Ensemble. Composed in 2004, it was first performed on 7th December that year at Warehouse Studios, London, by Camarilla Ensemble. The piece was inspired by Jenkins' close friendship with the members of the Camarilla Ensemble.


> Weitere Informationen zum Werk: Madog
> Weitere Informationen zu Madog
> Nachrichtensuche
Komponist im Porträt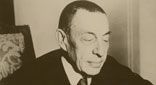 Sergei Rachmaninoff
Zu den wichtigsten Werken dieses beliebten russischen Komponisten zählen das Klavierkonzert Nr.2, die Symphonischen Tänze und die Paganini-Rhapsodie.
LESEN SIE MEHR