A New Britten Arrangement for Voice & Guitar by Julian Bream
(October 2008)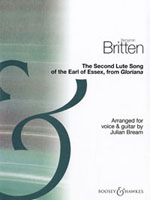 The Second Lute Song of the Earl of Essex, from Gloriana.
This arrangement of a song from Britten's 1953 opera 'Gloriana' was written in 1957, with Britten's approval. Although it was recorded in 1963 by Peter Pears and Julian Bream and often included in their recital programmes, this exquisite arrangement was never published until now. Julian Bream has applied minor revisions for this present publication.
> Weitere Informationen zum Werk: Gloriana
> Weitere Informationen zu Lute Song of the Earl of Essex - voice & guitar
> Nachrichtensuche
Komponist im Porträt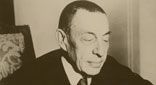 Sergei Rachmaninoff
Zu den wichtigsten Werken dieses beliebten russischen Komponisten zählen das Klavierkonzert Nr.2, die Symphonischen Tänze und die Paganini-Rhapsodie.
LESEN SIE MEHR