Karl Jenkins: Parliament of Owls now arranged for SSA
(December 2010)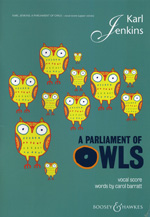 A celebration of collective nouns in three contrasting movements, with saxophone, percussion and piano duet accompaniment.
English collective nouns encapsulate in an intrinsically attractive way something characteristic of the group, for example 'a gaggle of geese', 'a piteousness of doves', 'an ostentation of peacocks'. Carol Barratt's text assembles these evocative expressions into hilarious nonsense poems.
> Weitere Informationen zum Werk: A Parliament of Owls (SSA version)
> Weitere Informationen zu A Parliament of Owls SSA & piano
> Nachrichtensuche
Komponist im Porträt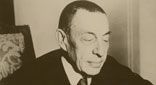 Sergei Rachmaninoff
Zu den wichtigsten Werken dieses beliebten russischen Komponisten zählen das Klavierkonzert Nr.2, die Symphonischen Tänze und die Paganini-Rhapsodie.
LESEN SIE MEHR