James MacMillan: The Mass of Blessed John Henry Newman
(May 2011)
The vocal score and congregation and cantor parts are available now for the piece originally written for the Pope's visit to England.
Vocal Score

Music Text : new translation of the Mass (E)
Scoring
2tpt.2trbn-timp-organ
Availability for future performances to be advised.
World Premiere
16/09/2010
Bellahouston Park, Glasgow
Congregation
View details for the Vocal Score
Vew details for the Cantor and Congregation parts
> Nachrichtensuche
Komponist im Porträt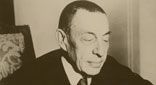 Sergei Rachmaninoff
Zu den wichtigsten Werken dieses beliebten russischen Komponisten zählen das Klavierkonzert Nr.2, die Symphonischen Tänze und die Paganini-Rhapsodie.
LESEN SIE MEHR