Sub-titled 'The Mysteries of Light', the composer states that this work attempts to revive the ancient practice of writing music based on the structure of the Rosary. The most famous example of this is the collection of the Rosary (or Mystery) Sonatas for violin by Heinrich Biber, written in the late 17th century. MacMillan's concerto is based on a set of five meditations introduced by John Paul II in 2002, the Luminous Mysteries. In spite of this, rather than being devotional the work proceeds in quasi-dramatic fashion, not too distant in concept from a tone poem. Commissioned by Osmo Vänskä and the Minnesota Orchestra on the occasion of the Orchestra's Centennial, and first performed with soloist Jean-Yves Thibaudet in April 2011. Performance materials available on hire. Duration: 25 minutes. Advanced standard.
Es gibt gegenwärtig keine Kritiken für dieses Produkt.
[Sagen Sie uns Ihre Meinung]
Komponist im Porträt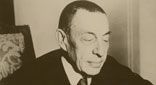 Sergei Rachmaninoff
Zu den wichtigsten Werken dieses beliebten russischen Komponisten zählen das Klavierkonzert Nr.2, die Symphonischen Tänze und die Paganini-Rhapsodie.
LESEN SIE MEHR