Kitty Brazelton's O Joy! premiered at Twin Cities choir VocalEssence's 40th birthday, and has been heard on NPR's Performance Today. It incorporates her re-translation of Psalm 77:1-6 with medieval and pop vocal tinges. Duration: ca. 4:30.
Es gibt gegenwärtig keine Kritiken für dieses Produkt.
[Sagen Sie uns Ihre Meinung]
Komponist im Porträt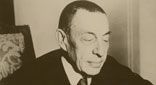 Sergei Rachmaninoff
Zu den wichtigsten Werken dieses beliebten russischen Komponisten zählen das Klavierkonzert Nr.2, die Symphonischen Tänze und die Paganini-Rhapsodie.
LESEN SIE MEHR