Inhalt

A Ballad
A Spiritual
A walk by the Sea
An Act of Defiance
Border Song
Caravan
Carnival Time
Carthorse Rag
Dark Thoughts
Feeling Blue
Folk Shuffle
Gallivanting
Gospel
Haiku
Hot Potato
Icicles
Inter-city Stomp
Madcap
Promises
Pulling No Punches
Puppet Theatre
Riding High
Set Piece
Shoehorn Blues
Sitting Comfortably
Smoochy
Steam-train Blues
Stick Together
Swing Out Sister
Tread Softly
---
Press Reviews
"...stimulating blend of contemporary popular genres and classical values...the ideal basis for progressive learning and teaching."
Schools Music Association, Autumn 1999
"...ideal for the beginner to intermediate student interested in jazz and popular music."
International Journal of Music Education, University of New South Wales 1993
"...fairly simple pieces in a variety of jazz styles, well written and attractive, with true equality of importance for each player."
Music Teacher, no date shown
These collections are based on the already-existing microjazz concept of graded pieces in popular styles, which includes many volumes for all woodwind and some brass instruments...... ..... Pupils familiar with the other microjazz collections will undoubtedly enjoy these volumes and will enjoy being able to see the progress in their own performance skills. Overall this is a pleasing set which would be useful for a good number of pupils of various standards and which will present suitable challenges while remaining an enjoyable tool for study.
[Sagen Sie uns Ihre Meinung]
Komponist im Porträt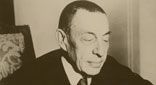 Sergei Rachmaninoff
Zu den wichtigsten Werken dieses beliebten russischen Komponisten zählen das Klavierkonzert Nr.2, die Symphonischen Tänze und die Paganini-Rhapsodie.
LESEN SIE MEHR