$24.81 *

* Estimated price converted from UK retail price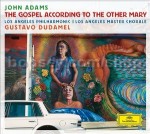 World-premiere recording

One of the most powerful concert experiences of recent seasons is about to become one of the most significant releases of the new year: Gustavo Dudamel conducts the Los Angeles Philharmonic and Master Chorale, along with an outstanding cast featuring Kelley O'Connor, Tamara Mumford and Russell Thomas, in Deutsche Grammophon's world-premiere recording of composer John Adams' internationally acclaimed The Gospel According to the Other Mary.

Based on a libretto compiled by Adams' frequent collaborator, iconoclast stage director Peter Sellars, The Gospel According to the Other Mary is conceived as an epic, timely reimagining of the great oratorios of Bach. In recounting Christ's Last Supper and crucifixion, Sellars has selected texts by Dorothy Day, Louise Erdrich, Primo Levi, Rosario Castellanos, June Jordan, Hildegard von Bingen and Rubén Darío in addition to Old and New Testament sources focusing on oft-neglected voices in the Passion, including those of Martha (sister of Lazarus) and Mary Magdalene. The resulting tableaux, highlighting the sorrow and courage of these women, set Biblical characters and events in a deeply moving, contemporary light.

As Dudamel remarks: "John Adams, like Stravinsky and Debussy a century ago, immerses himself in the creative process by engaging not just with musicians, but with painters, writers, directors and thinkers of different cultures and backgrounds. It was so rewarding collaborating with John, especially in the artistic rapport he shares with Peter Sellars, in realizing this huge, beautiful, socially relevant piece. It is both a contemporary reinterpretation of the story of Jesus and Mary Magdalene, and a reaction to the suffering of people around the world."

Subsequent to the original concert performances in Los Angeles in May 2012, Adams made a number of revisions to the score and Sellars staged The Gospel for an international tour in March 2013 that took the production from LA to London, Lucerne, Paris and New York. This recording represents their conclusive vision of this important musical landmark.
Show
Contents and Reviews
Contents
The Gospel According to the Other Mary Act 1 Scene 1 - Jail / House Of Hospitality 1. "The Next Day In The City Jail" 2. "Now A Certain Woman Named Martha" Scene 2 - Mary 3. "And She Had A Sister Named Mary" 4. "I Am Surprised That I Am Beginning To Pray Daily" 5. "En un día de amor yo bajé hasta la tierra" Scene 3 - Lazarus 6. "Now A Certain Man Was Sick" 7. Lazarus Dies While The Sisters Await Jesus 8. "Why Standest Thou Afar Off, O Lord?" 9. "In My Own Quietly Explosive Here" 10. "Don't Touch My Left Arm" 11. "When Mary Was Come Where Jesus Was" 12. "Jesus Said, Take Ye Away The Stone" 13. "And When He Thus Had Spoken" 14. "Drop Down, Ye Heavens, From Above" Scene 4 - Supper At Bethany 15. "Then Jesus Six Days Before The Passover" 16. "For The Grave Cannot Praise Thee" 17. "Then Took Mary A Pound Of Ointment" Scene 5 - Passover 18. "And There Were Some That Had Indignation" 19. "We Know There Will Be No Utopias" 20. "Tell Me: How Is This Night Different" Act 2 1. "Who Rips His Own Flesh Down The Seams" Scene 1 - Police Raid 2. "Martha And Mary, Not Knowing" Scene 2 - Arrest Of The Women 3. Instrumental Introduction 4. "Up At Two A.M., Picketed All Day" 5. "The Said Defendants" 6. "Jesús, incomparable perdonador de injurias" Scene 3 - Golgotha 7. "And They Were Come Unto A Place Called Golgotha" 8. "Daughters Of Jerusalem, Weep Not For Me" 9. "Now There Stood By The Cross Of Jesus" 10. "When Jesus Saw His Mother" Scene 4 - Night 11. "When The Rain Began To Fall" 12. "His Son Cried Out To Him" Scene 5 - Burial / Spring 13. "Now In The Place Where He Was Crucified" 14. Mary Awakens On The Third Morning 15. "It Is Spring" Scene 6 - Earthquake And Recognition 16. "And, Behold, There Was A Great Earthquake" 17. "Why Seek Ye The Living Among The Dead?"
Reviews
There are currently no reviews for this product.
You May Be Interested In