Catalogue No: OA0869D
Shop Product Code: 208211D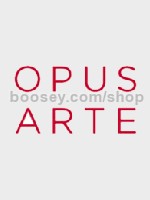 Mozart Cecilia Bartoli

Concentus Musicus Wien
Conducted by Nikolaus Harnoncourt
Director: Brian Large
Filmed at the Styriarte Festival, Graz, Austria on 13 and 14 July, 2001

'Superb - a masterclass in the vocal arts…a very classy package indeed.' Classic fM

'Grammy award winner Cecilia Bartoli was surely born to sing Mozart…an unmissable
live recording.' HMV Choice

'Bartoli in fine form - one of the best recorded concerts on DVD.' Gramophone

The electric Cecilia Bartoli joins Nikolaus Harnoncourt and the Concentus Musicus Wien to perform arias and recitatives by Mozart at the Styriarte Festival in Graz. This live recording is from the Stefaniensaal, Graz's concert hall famous for its perfect acoustic.

Superb - a masterclass in the vocal arts, how to conduct Mozart and how to direct a film of the occasion...director Brian Large captures a great singer at the height of her powers guided by the inspirational Harnoncourt. Bartoli sings five arias in her inimitable way followed by Harnoncourt's illuminating performance of the 'Prague' Symphony. Add to this two neat features on how the concert was recorded and prepared, plus a superb booklet by Misha Donat, and you have a very classy package indeed. Malcolm Hayes
- Classic fM


EXTRA FEATURES

Filming Notes - Production diary of the camera team's preparations for a landmark recording with Cecilia Bartoli.

In Rehearsal - Cecilia Bartoli and Nikolaus Harnoncourt discuss the music of Mozart, and work on performances in rehearsal.

Show
Contents and Reviews
Contents
Region Code: All regions
Picture format: 16:9
Running time: 113 mins
Menu languages: GB
Subtitle languages: GB/F/D/ES (PAL) GB (NTSC)
Sound format: LPCM Stereo/ dts 5.1/ Dolby 5.1
Cat No.: OA 0820 D (PAL) OA 0869 D (NTSC)
Symphony 38 "Prague"
Mozart Arias
Voi avete un cor fedele
Giunse alfin il momento - Al desio di chi t'adora
Vado, ma dove? Oh Dei!
Un moto di gioia mi sento
Bella mia fiamma, addio
Reviews


There are currently no reviews for this product.
You May Be Interested In