$46.35 *

* Estimated price converted from UK retail price
Catalogue No: 9780199604975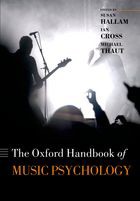 Edited by Susan Hallam, Dean of the Faculty of Policy and Society, Institute of Education, University of London, UK, Ian Cross, Director, Centre for Music & Science, Faculty of Music, University of Cambridge, UK, and Michael Thaut, Dean, School of the Arts, Colorado State University; Director, Centre for Biomedical Research in Music, Colorado State University, Fort Collins CO, USA

600 pages | 246x171mm
978-0-19-960497-5 | Paperback | 26 May 2011


A landmark text in the music psychology literature, providing a truly comprehensive overview of the entire field, covering cognition, neuroscience, education, and therapy
Includes over 50 chapters specially commissioned for the text, each written by the authority in that area
The volume benefits from a team of specialist advisors, enabling coverage of the field that has hitherto been impossible in any one text
The field of Music Psychology has grown dramatically in the past 20 years, to emerge from being just a minor topic to one of mainstream interest within the brain sciences. However, until now, there has been no comprehensive reference text in the field.
The Oxford Handbook of Music Psychology is a landmark text providing, for the first time ever, a comprehensive overview of the latest developments in this fast-growing area of research. With contributions from over fifty experts in the field, the range and depth of coverage is unequalled. All the chapters combine a solid review of the relevant literature with well-reasoned arguments and robust discussions of the major findings, as well as original insights and suggestions for future work.
Written by leading experts, the 52 chapters are divided into 11 sections covering both experimental and theoretical perspectives, each edited by an internationally recognised authority
Ten sections each present chapters that focus on specific areas of music psychology:

- the origins and functions of music
- music perception
- responses to music
- music and the brain
- musical development
- learning musical skills
- musical performance
- composition and improvisation
- the role of music in our everyday lives
- music therapy and conceptual frameworks

In each section, expert authors critically review the literature, highlight current issues, and explore possibilities for the future. The final section examines how in recent years the study of music psychology has broadened to include a range of other scientific disciplines. It considers the way that the research has developed in relation to technological advances, fostering links across the field and providing an overview of the areas where the field needs further development in the future.

The Oxford Handbook of Music Psychology will be the essential reference text for students and researchers across psychology and neuroscience.


Susan Hallam is Professor of Education at the Institute of Education, University of London and currently Dean of the Faculty of Policy and Society. She pursued careers as both a professional musician and a music educator before completing her psychology studies and becoming an academic in 1991 in the department of Educational Psychology at the Institute. Her research interests include disaffection from school, ability grouping and homework and issues relating to learning in music, practising, performing, musical ability, musical understanding and the effects of music on behaviour and studying. She is past editor of Psychology of Music, Psychology of Education Review and Learning Matters. She has twice been Chair of the Education Section of the British Psychological Society, and is currently treasurer of the British Educational Research Association, an auditor for the Quality Assurance Agency and an Academician of the Learned Societies for the Social Sciences.

Ian Cross teaches at the University of Cambridge where he is Reader in Music & Science, Director of the Centre for Music & Science and a Fellow of Wolfson College. He has published widely in the field of music cognition. His principal research focus at present is on music as a biocultural phenomenon, involving collaboration with psychologists, anthropologists, archaeologists and computational neuroscientists. His research explores the biological and cultural bases for human musicality, in particular, the mechanisms underlying the capacity for achievement and maintenance of inter-individual synchrony of behaviour, those underlying the experience of meaning in engagement with music, and those involved in the cognition and perception of multi-levelled structure in both music and language.

Michael H Thaut received his masters and PhD in music from Michigan State University. He is also a graduate of the Mozarteum Music Conservatory in Salzburg/Austria. At Colorado State University he is a Professor of Music and a Professor of Neuroscience and serves as Executive Director of the School of the Arts and Chairman of the Dept of Music, Theater, and Dance. He has also directed the Center for Biomedical Research in Music for 12 years. Dr Thaut's internationally recognized research focuses on brain function in music, especially time information processing in the brain related to rhythmicity and biomedical applications of music to neurologic rehabilitation of cognitive and motor function. He has received both the National Research Award and the National Service Award from the American Music Therapy Association. He is an elected member of the World Academy of Multidisciplinary Neurotraumatology and in 2007 he was elected President of the International Society for Clinical Neuromusicology.

Show
Contents and Reviews
Contents
Part I - The Origins and Functions of Music edited by Ian Cross 1: Ian Cross: The nature of music and its evolution 2: Catherine Stevens & Tim Byron: Universals in music processing 3: Ian Cross & Elizabeth Tolbert: Music and meaning 4: Martin Clayton: The social and personal functions of music in cross-cultural perspective Part II - Music Perception edited by Ian Cross 5: Thomas Stainsby & Ian Cross: The perception of pitch 6: Emmanuel Bigand & Benedicte Poulin-Charronat: Tonal cognition 7: Stephen McAdams & Bruno L Giordano: The perception of musical timbre 8: Mari Riess Jones: Musical time 9: Mark A Schmuckler: Components of melodic processing 10: Bob Snyder: Memory for music Part III - Responses to Music edited by Donald Hodges 11: Donald A Hodges: Bodily responses to music 12: Patrik N Juslin: Emotional responses to music 13: Alf Gabrielsson: The relationship between musical structure and perceived expression 14: David Huron: Aesthetics 15: Alexandra Lamont & Alinka Greasley: Musical preferences Part IV - Music and the Brain edited by Aniruddh Patel 16: Laurel J Trainor & Robert J Zatorre: The neurobiological basis of musical expectations 17: Lauren Stewart, Katharina von Kriegstein, Simone Dalla Bella, Jason D Warren & Timothy D Griffiths: Disorders of musical cognition 18: Gottfried Schlaug: Music, musicians and brain plasticity 19: Aniruddh D Patel: Music and the brain: three links to language Part V - Musical Development edited by David Hargreaves 20: Richard Parncutt: Prenatal development and the phylogeny and ontogeny of musical behaviour 21: Sandra E Trehub: Music lessons from infants 22: Alexandra Lamont: Music in the school years 23: Frances H Rauscher: The impact of music instruction on other skills Part VI - Learning Musical Skills edited by Susan Hallam 24: Gary McPherson & Susan Hallam: Musical potential 25: Harald Jorgensen & Susan Hallam: Practising 26: Helena Gaunt & Susan Hallam: Individuality in the learning of musical skills 27: Susan Hallam: Motivation to learn 28: Andrea Creech: The role of the family in support learning 29: Graham Welch & Adam Ockelford: The role of the institution and teachers in supporting learning Part VII - Musical Performance edited by Richard Parncutt 30: W Luke Windsor: Measurement and models of performance 31: Eckart Altenmueller & Sabine Schneider: Planning and performance 32: Andreas C Lehmann & Reinhard Kopiez: Sight-reading 33: Roger Chaffin, Topher Logan & Kristen T Begosh: Performing from memory 34: Jane W Davidson: Movement and collaboration in musical performance 35: Patrik N Juslin: Emotion in music performance 36: Dianna T Kenny & Bronwen Ackermann: Optimising physical and psychological health in performing musicians Part VIII - Composition and Improvisation edited by Peter Webster 37: Jonathan Impett: Making a mark: the psychology of composition 38: Richard Ashley: Musical improvisation 39: Peter R Webster: Children as creative thinkers in music: focus on composition Part IX - The Role of Music in our Everyday Lives edited by John Sloboda 40: John Sloboda, Alexandra Lamont & Alinka Greasley: Choosing to hear music: motivation, process and effect 41: Annabel J Cohen: Music in performance arts: film, theatre and dance 42: John Whaley, John Sloboda & Alf Gabrielsson: Peak experiences in music 43: Raymond MacDonald, David J Hargreaves & Dorothy Miell: Musical identities 44: Susan Hallam & Raymond MacDonald: The effects of music and community and educational settings 45: Adrian C North & David J Hargreaves: Music and consumer behaviour Part X - Music Therapy edited by Michael Thaut 46: Shannon de l'Etoile & Alicia Clair: Music therapy: processes of music therapy 47: Corene Hurt-Thaut: Clinical practice in music therapy 48: Barbara Wheeler: Research and evaluation in music therapy 49: Anne Kathrin Leins, Ralph Spintge & Michael Thaut: Music therapy in medical and neurological rehabilitation settings Part XI - Conceptual Frameworks, Research Methods and Future edited by Susan Hallam, Ian Cross & Michael Thaut 50: Adam Ockelford: Beyond music psychology 51: Michael Thaut: History and research 52: Susan Hallam, Ian Cross & Michael Thaut: Where now?
Reviews
There are currently no reviews for this product.
You May Be Interested In