$4.64 * each
$4.17 * if you buy 10 + (10% off)
$3.95 * if you buy 30 + (15% off)

* Estimated price converted from UK retail price
Catalogue No: M051471577
ISMN: 9790051471577
Shop Product Code: 155684R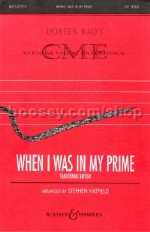 A traditional British song arranged by Stephen Hatfield for treble voices in three parts (SSA) and piano.

The emotional content of the song is intensified by the symbolism attached to the flowers named - symbolism which would be common knowledge to the song's original audience. The "pink" is a miniature carnation, a flower associated with romantic fascination. Pink carnations mean "I'll never forget you." White carnations stand for innocence and purity, so the carnation has a similar blend of innocence and passion as white and red roses. Most people today equate violets with African Violets, but that species was unknown to the singer of this song. The "British Violet," as the name suggests, is a member of the Viola family, which also includes Pansies and Johnny Jump-Ups. Violets were fragile and delicate (as in "shrinking violet"), and they were also linked to thoughtful memory. "Pansy" comes from "pensee," the French for "thought," while the violet's blue color was traditionally the colour of memory, and of the Virgin Mary.

The willow tree was associated with sorrow because of its downhanging branches, and the shivering sound of the wind in its leaves. It was also held in awe because if you cut off a willow switch and place it in damp earth, it will sprout into a new tree-so it is not only a symbol of sorrow that lasts forever.
"A sensitive arrangement of the traditional British song which would be ideal for any proficient girls' or women's choir".
Music Teacher 2001
You May Be Interested In
Also By This Composer